Can You Pour Concrete In The Rain
It is pretty evident that if you aren't a concrete contractor you won't really know the dos and don'ts of the concrete pour. Often times the mix of the concrete and the skill-set of the people working on the job can determine a successful project. In most states, concrete contractors cannot wait for the weather to be perfect. If that was the case, most jobs would never get finished and new home construction would be delayed for months. So, let's check some details. Can you pour concrete in the rain? Yes, you need to understand how to remove excess water so the concrete doesn't cure incorrectly.
Let's take a look below at some of the dos and don'ts with concrete pouring in the rain.
What Would Happen
Typically, the damage to a concrete pour due to rain is based on how severe the rainfall is. Heavy rain should immediately stop the project from starting. Check the weather forecast before you start the project is hugely important at this point.
Also, knowing how the project is laid out. If there are downspouts near the area of the pour where rain can be funneled to the concrete should be considered. If it is light rain then you can continue the project and keep plastic sheets or tarps on hand to cover the new pour as the curing process takes place.
Ways the concrete can be affected due to rain:
Dusting– the surface is dusty after it dries.
Surface scaling-the finished surface appears to be peeling away and chopped up in various colors.
Craze cracking (easily aggravated by freeze-thaw cycles)-you can see hairline cracks begin to form as the concrete cures. These cracks will get bigger over time.
You can always conduct a scratch test to check the strength of the concrete surface.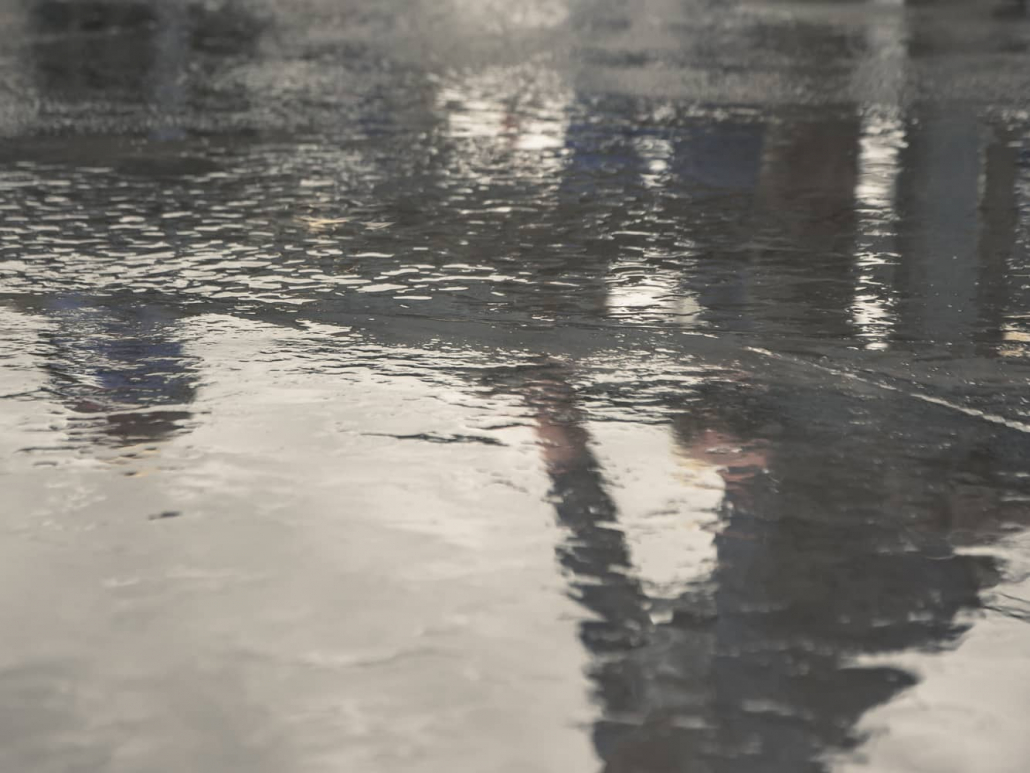 What Do I Do If It Rains
Not knowing precise weather conditions can hinder your progress. Some of the best pieces of advice when dealing with rain while pouring concrete are as follows:
Avoid pushing the rainwater into the fresh concrete. This is a huge no-no.
Never throw dry cement mix into the concrete to soak up the surface water as this will diminish the top layer change the finish.
As rain passes, push the water off the edge of the wet surfaces with a float or hose, and once removed you can finish.
How Much Does It Cost
The national average for concrete slabs can range from $5.50 to $9.50 per square foot. This all depends on what you are wanting and how big of a space you are pouring. Keep in mind that all locations vary based on materials and contractors. You can accomplish a lot with concrete for a reasonable price.
Other Recommended Maintenance
If you are building your home, you will want to make sure that a concrete vapor barrier was added in the pre-pour stage. This is to make sure that moisture doesn't get into the concrete. A concrete vapor barrier can also keep radon out by covering the exposed dirt.
Also, check the downspouts on your home. You want to make sure they go away from the house. A rule of thumb is 4-6 feet, but 10 feet if possible so you don't end up with flooding and puddles near the foundation.
Lastly, while you are making sure that the concrete stays dry when it rains and following the tips above, take a look at the windows. Do you notice that the window leaks when it rains? This could be due to cracked sealant, gutters, or missing flashing.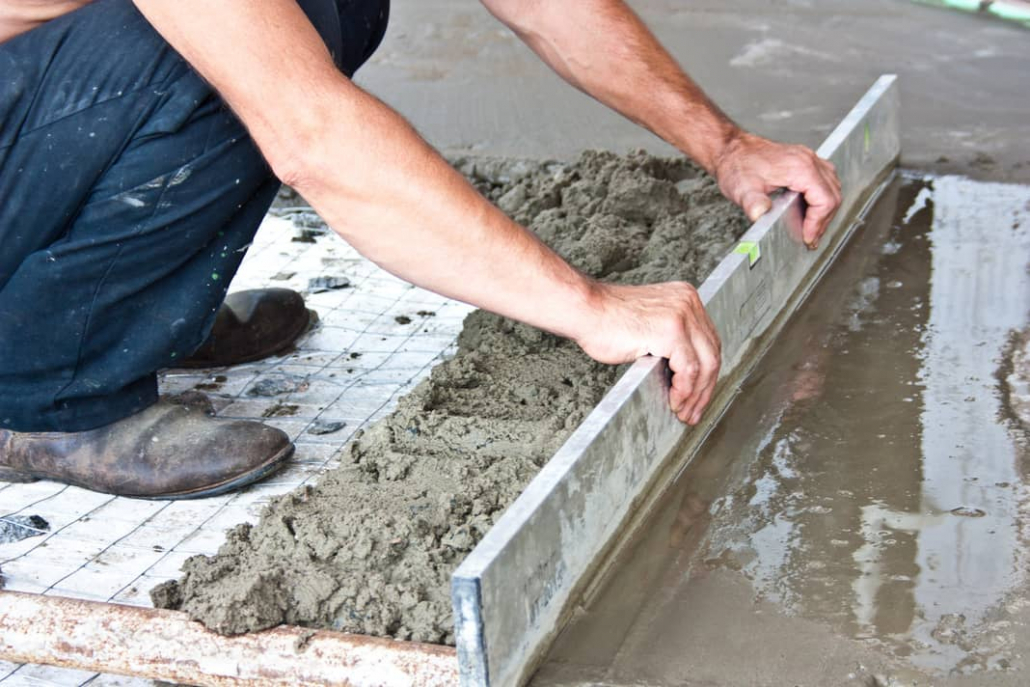 When Do I Call A Professional
Calling on a professional concrete contractor is a definite with this project. They will know the ins and outs of pouring concrete. No matter if it is an outdoor patio, your original home's foundation, or even the driveway and walkway into your new home. These are all typical projects that you won't have the time or energy to complete on your own. Concrete is a tough project no matter what it is for.
You might want to consider hiring your local home inspection team to look at your home's foundation and garage pad once the home has settled. If you have a concrete professional coming out to pour more padding for your home, the home inspection team might find some additional projects that the concrete crew can manage at the same time.
Conclusion
Pouring concrete patios, sidewalks, driveways or even a new home's padding can be a challenge in Florida. Like many other southern states, you never can tell when that sudden rain is going to pop up and mess with your job. Regardless of the project that you are having done, you need to be aware of impending weather at all times. Not all professional concrete contractors take the same approach. Some will get the project completed for the sake of getting paid, while others will be meticulous and make sure that the concrete cures properly, with no imperfections.
Call your local home inspection team to get a few referrals for the most reputable professional concrete contractors around. While they are out at your home, they can conduct a full home inspection. This will allow you to add any extra projects to the list while you have the concrete contractor. Contact Inside and Out Property Inspectors in Jacksonville, FL, and surrounding areas to get your home inspection done today.
https://insideandoutpropertyinspectors.com/wp-content/uploads/2022/02/concrete_25.jpeg
911
1370
BJ Johnson
https://d39oyu4lp7snwz.cloudfront.net/wp-content/uploads/sites/54/2019/08/31171419/io-favicon-300x300.png
BJ Johnson
2022-02-03 17:00:42
2022-02-03 17:00:48
Can You Pour Concrete In The Rain