How to Get Rid of Drywood Termites
Termites are bad news for a home and unfortunately, they do make their presence known, especially in the warmer and more humid climates like Florida. In addition, there are over twenty species of termites and one of those popular here in Florida are the drywood termites. How do you get rid of drywood termites? There are two different ways: Use Boracare or Fitpro Aerosol and keep moisture out of the home.
Let's take a look at what drywood termites are, how to identify them, Drywood vs. Subterranean, where to inspect, signs of drywood, how to get rid of them, how to prevent the termites from returning, other areas to monitor, home inspection report and when to call a professional.
What Are Drywood Termites
These termites are found from California to Florida along the coast. They cause a lot of damage like the subterranean termites, especially structurally. It is important to identify them correctly so you can use the right methods to get rid of them.
How to Identify Drywood Termites
Drywood termites love furniture, wood flooring and the frames on a house. Also, any other area that has dried wood is appealing to them.
The body is reddish-brown in color and they are half an inch long. They have two pairs of wings that are the same length. If you see these, contact a professional to come to your home and investigate further. This is just the beginning and you want to take care of them before it gets worse.
The Different types of Drywood Termites
There are the swarmers, reproductives, soldiers, and workers.
Swarmers: These are when the busy termites reside in the soil near the surface of their nest until the perfect conditions are just right to fly away and look for a new home. When conditions are right, the swarmers fly away to pair off with a mate and this can wreck havoc on a home.
Reproductives: There are also reproductives of this type of termite that are the king and queen that stay in the colony. This is also why you want to take care of them quickly as they are creating more termites.
Soldiers: 1/4 inch long and cream-colored. They have an orange rectangular shaped head along with a large jaw. This jaw has serrated edges and used to protect the colony from intruders.
Workers: Also cream-colored but 3/16th of an inch long. This type damages structures by eating the wood to collect cellulose and these worker termites make up the majority of termites.
Drywood Termites vs. Subterranean Termites
Drywood: build nests in wood and create tunnels and chambers. They are smaller infestations.
Subterranean: build nests underground and large infestations.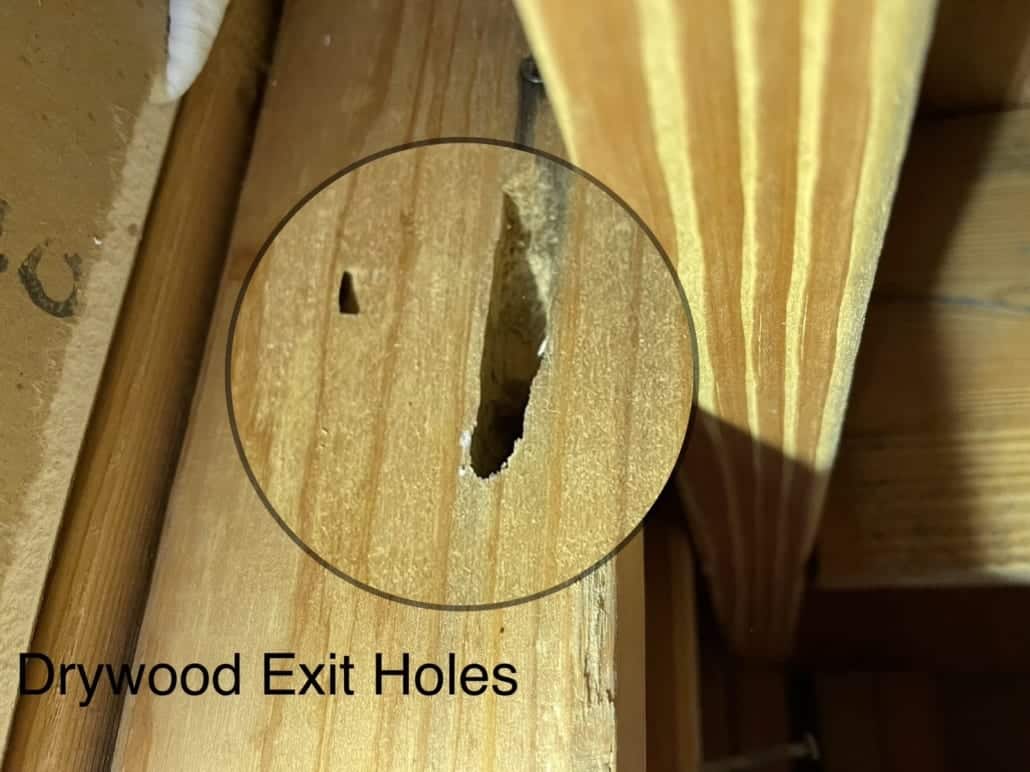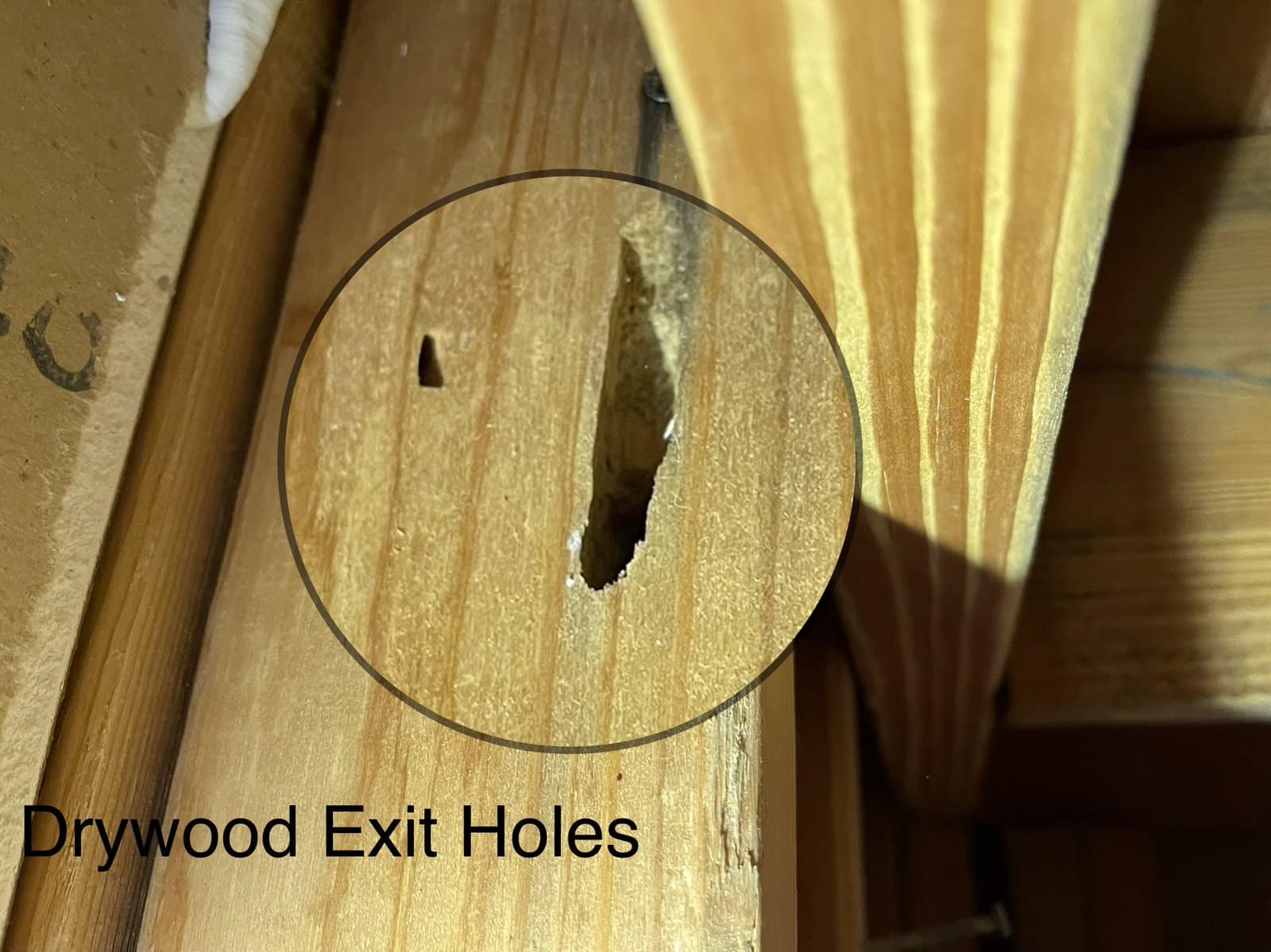 Where to Inspect
You will most likely find these termites in the attic or in the eaves of the house. Eaves are made of fascia and soffits and allow water to run off the side of the house. Also, termites love moist wood. Therefore, termites are commonly found in areas of water intrusion or leaks.
Have a flashlight with you so you can look in dark areas as well. Homes that have a basement are a place these termites like to hide out as well. Lastly, equip yourself with a screwdriver so you can use it to poke galleries of termites that you might find.
If you don't have a screwdriver, use anything that is sharp. Also look at any areas where there is wood construction, ceiling joists, and where you see soil meeting the wood. These are areas that will show signs of these pests if they are in our outside the home. You will also want to look for the drywood exit holes as seen in the picture above and the video below.
Here is a good video that shows you where the termites came out of in this home and the swarming that is happening.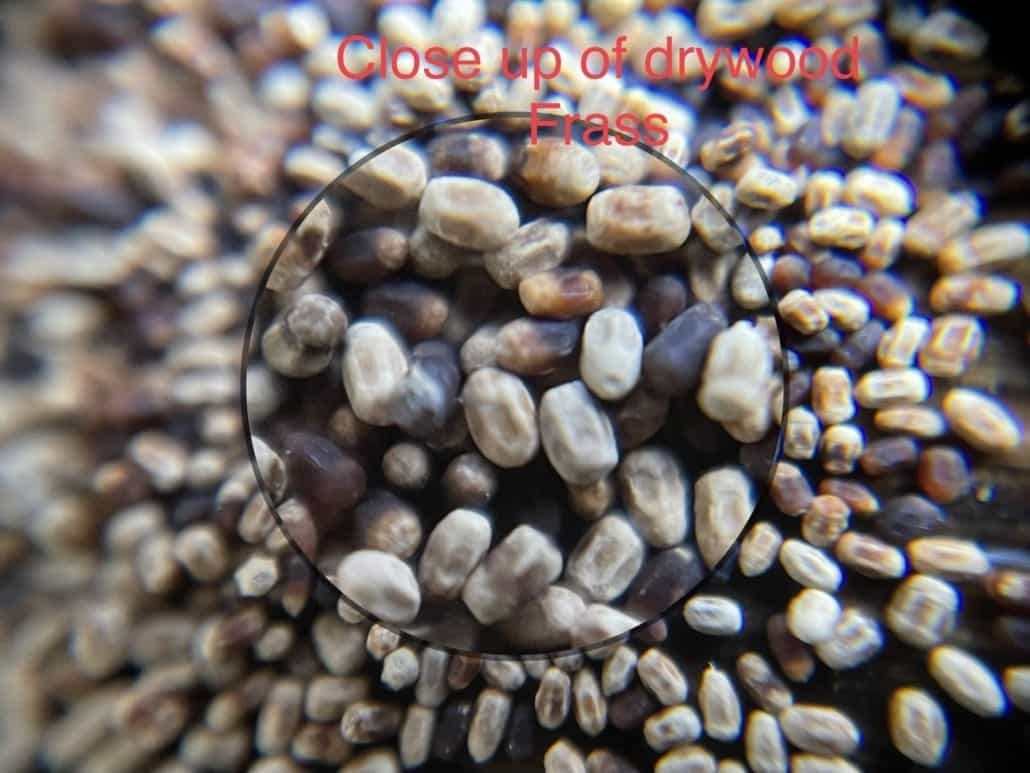 Signs of the Drywood Termites
Frass, wings, and feces. Termite frass, as shown above, is termite droppings. If there is frass, it is from drywood termites. Frass are typically tan or black, small, and if you look close up with a magnifying glass, it has indents on it all around.
Additionally, there will be swarmer wings. As mentioned above, these wings indicate that the termites are actively mating and creating new colonies. If you see this, contact a professional right away.
How to Get Rid of Drywood Termites
Once you find them, and identify them as drywood termites, there are two ways to get rid of them. One way is treating the wood with Boracare and the other is using FiPro Aerosol.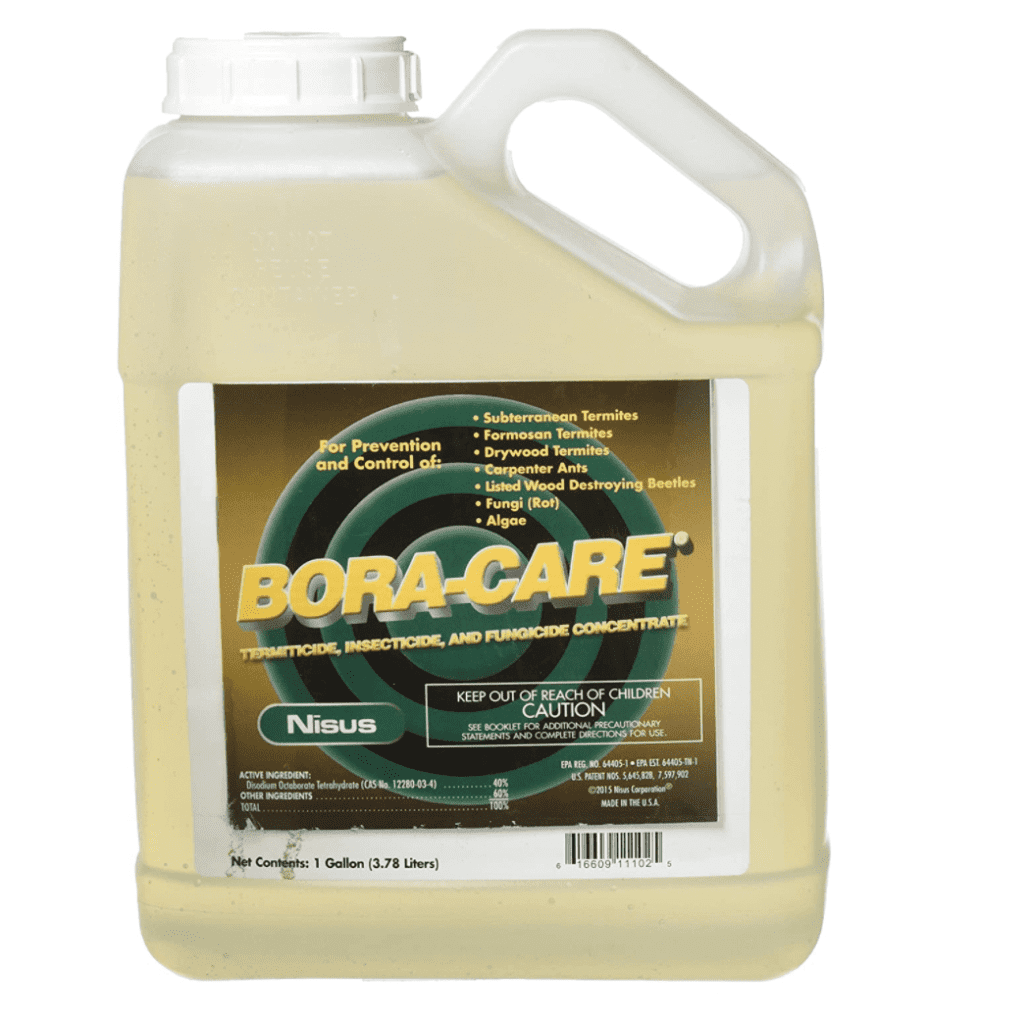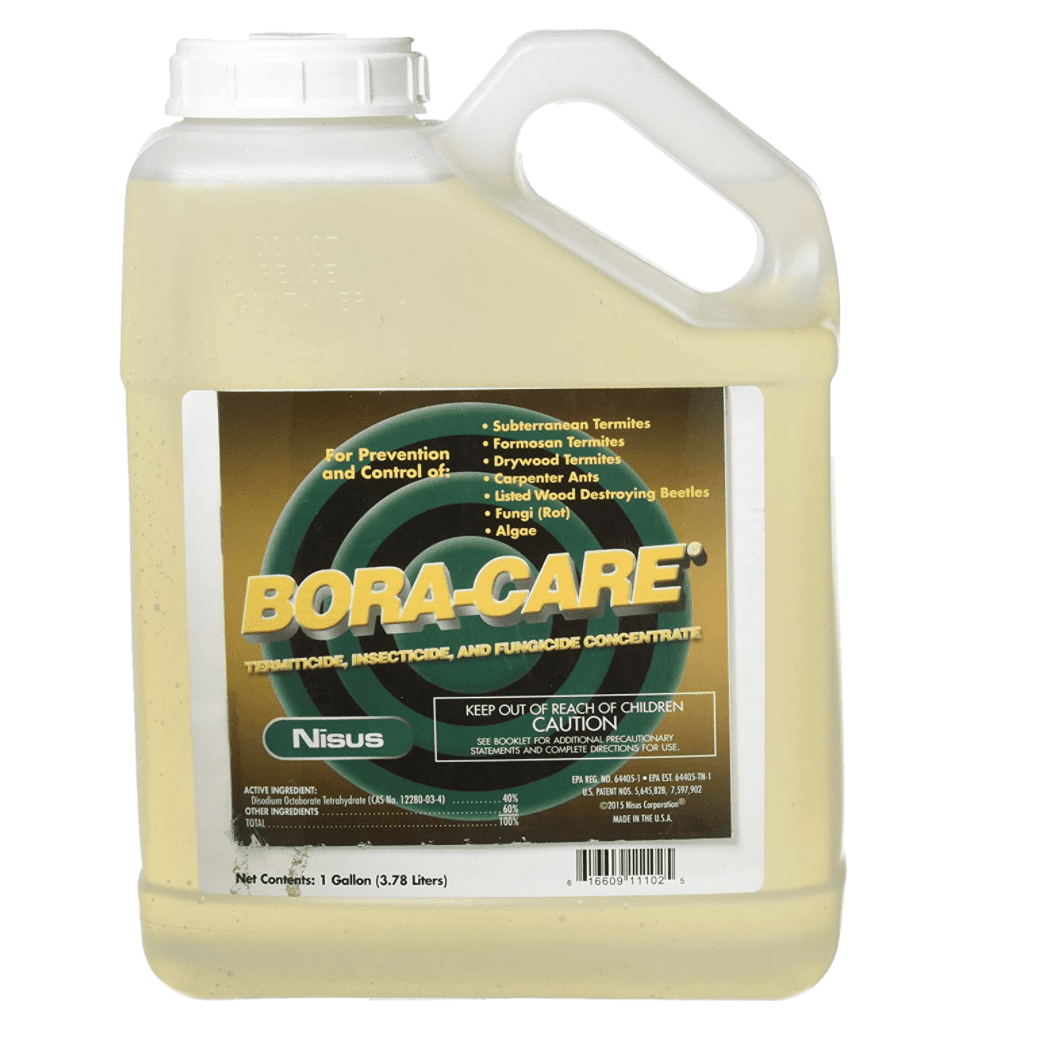 Boracare
This is the process of treating the wood with a product called Boracare. In order to know how much you need to use, you need to figure out the size of the area in which you need to treat. To do this, you need to measure the linear feet of exterior walls, interior walls and other areas in which you find you need to treat.
Look at your walls. Are there 2×4, 2×6, or 2×8 studs on the wall? If you are not sure, this video may help:
To figure out how much Boracare you need, you will need to determine the size of the treatment area. Measure the linear feet of all exterior walls, interior walls, and areas you wish to treat. Most commonly, homes use 2×4, 2×6 or 2×8 studs on their walls.
2×4 studs: 1 gallon of diluted Boracare will cover 600 linear feet
2×6 studs: are 400 linear feet and need 1 gallon of diluted Boracare
2×8 studs: are 308 linear feet
Linear feet are the length of the measurement (6 linear feet = 6 total feet).
You will need a 5 gallon bucket. Mix 1 part of the Boracare with 1 part water. The water should be hot as the Boracare is thick and needs to be mixed well.
Where to Apply the Boracare
Boracare can be painted onto wood or sprayed on walls. It is up to you which way you want to apply it but make sure you apply two coats of the Boracare to the wood that has the infestation. This will be the most effective as the Boracare penetrates the wood and kills the termites as they feed.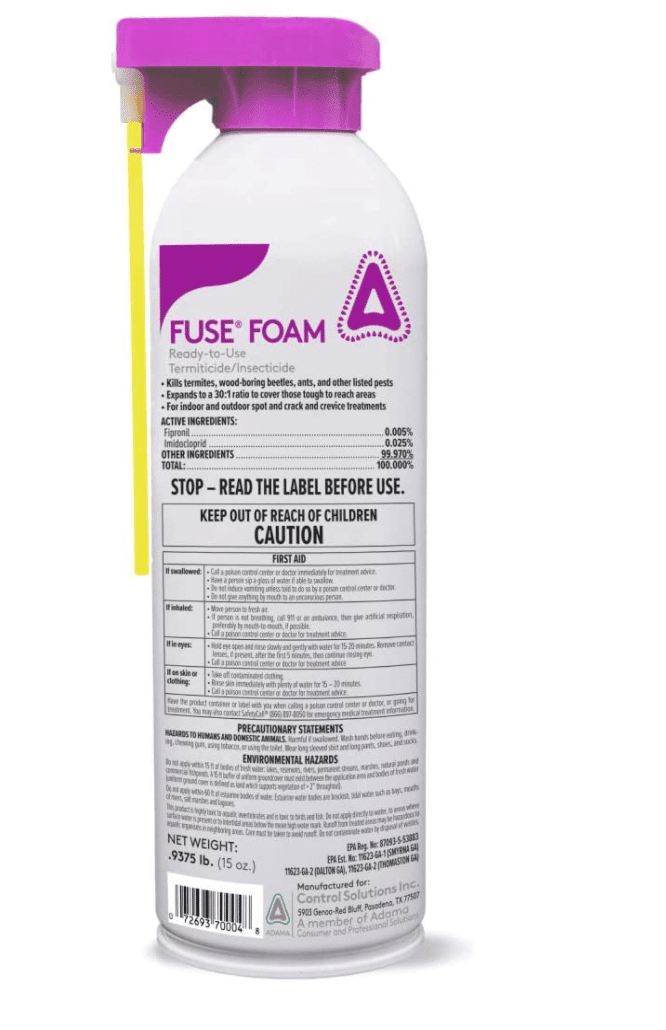 Fipro Aerosol Foam
The other way to get rid of the drywood termites is to use Fipro Aerosol Foam. Apply Fipro Aerosol Foam into any exposed termite galleries, voids, cracks, and crevices that you see around windows, doors, and fireplaces.
Grab a drill bit and drill holes into the wood where the nest is. You should make the holes 8 to 10 inches apart around the piece of wood.
Once you have drilled the holes, fill them with the Fipro.
Lastly, close up the holes made in the wood. This can be done by using a patch that is made for wood or a wood sealant.
Once you have chosen one of the methods above, hopefully, it takes care of the problem. If not, contact a professional for help.
How to Prevent Termites From Returning
It will feel great when you have successfully rid your home of the termites! However, you do need to continue to try to prevent a reinfestation. One of these ways is to spray the Boracore in the attic on all exposed wood. Also, spray it in the exterior underneath the house and where you see floor joists.
The other way is to spray FiPro Aerosol in voids, cracks, and crevices. Do this every three months to keep the areas under control. Lastly, keep an eye out for further signs of termite activity and reduce moisture around the house.
Other Areas to Monitor or To Add to the Home
If you don't have downspouts, consider installing these to take the water away from the home. You want the downspout to have an extension on it so it doesn't drop the water next to the home. An extension that is 6-10 feet from the home is a good idea. The more you can get the moisture away from the home, the better.
Draining issues in the basement? You may need to look into a French drain. A French drain will help take the water out of the basement and into the yard. The last thing you want is the wood getting wet in the basement and causing structural issues, plus be an inviting place for termites to start getting comfortable.
Negative grading in the yard can also send water towards the home and allow it to pool near the house or seep in. This can be fixed with landscaping, adding in soil, and other aesthetics.
Home Inspection Report
A home inspection report does more than look at electrical, pipes, etc. It also looks at structural issues and termite issues. A termite issue will come up on a home inspection report so this is another reason of many why this problem needs to be remedied.
When to Call a Professional
If you have termites, this is not a problem you can ignore. Not sure you want to take it on yourself? Or is it a large problem? Contact a professional to help you. A termite problem will affect the structure of your home and become a danger.
Conclusion
Termites can bring a lot of headaches and issues to a home. Taking care of them before they cause a disaster is important. As mentioned above, they will wreak havoc in the home and can also cost you a lot of money to fix the problems. Inside and Out Property Inspectors offer termite prevention and termite control and can check out your home in the Jacksonville and St. Augustine, FL areas.
https://insideandoutpropertyinspectors.com/wp-content/uploads/2021/07/Drywood-termite.jpeg
1635
2180
BJ Johnson
https://d39oyu4lp7snwz.cloudfront.net/wp-content/uploads/sites/54/2019/08/31171419/io-favicon-300x300.png
BJ Johnson
2021-07-06 11:32:17
2021-07-06 11:32:18
How to Get Rid of Drywood Termites