Bootleg Grounds: Everything You Need To Know
We hear the word "bootleg" often such as bootleg cassettes or bootleg computer software to name a few. It means things that are created and sold illegally. Often people will sell bootleg videos of movies or concerts. These are illegal recordings that a person made while at the concert or movie and then sells it. In the case of electricity, a bootleg ground is when a jumper wire is installed on a receptacle, in between from the neutral wire to the ground screw. The purpose is to ground the receptacle when going from a two-prong outlet to a three-prong. However, it is illegal and does not actually ground the receptacle.
Let's take a look at why you need to know about bootleg ground, what it means, why it is dangerous, GFCI protected outlets, how to know you have one and what if you have one, alternatives, other areas to check and when to call a professional.
Why You Need to Know About Bootleg Ground
Homes built prior to 1960 that have grounded receptacles and not rewired could have bootleg ground. Why? Often it is done out of not knowing any better, but sometimes it is done to pass it off as being grounded when it is not. You want to have your receptacles grounded properly so family members are not electrocuted in the home. In addition, it is illegal to have bootleg ground.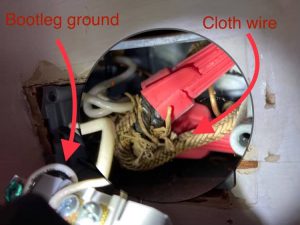 What it Means to Ground
In a home, you want the receptacle grounded. Back in the 1960s, homes only had two-prong outlets and there was a neutral wire and a hot wire. Wires were not grounded, thus making homes dangerous if a fault were to occur. Now, many people will have the prong outlets updated in their older homes, going from two prongs to three prongs so they don't need to use an adapter.
However, the problem is when rewiring the home, some contractors were not installing the proper ground wire to make the home safe. This is usually a wire that runs from the breaker box to the newly installed three-prong outlet. Instead, the wire is not installed and creating a hazard in the home.
Some people say that having the ground wire tied to the neutral wire at the electrical panel is okay and having them tied together on the other end at the three-prong outlet will work just fine. However, that is not a true statement and the wire must be connected properly. People try to get around it as it is expensive to do.
Why Bootleg Ground is Dangerous
This is dangerous because of the flow of electricity. Hot and neutral wires are the only ones designed to carry the electricity and the ground wire is not made to carry the electricity. However, what happens is if there is a problem on the neutral wire that it becomes disconnected or damaged as it is connected to the three-prong, anything that is plugged in can strengthen and cause electrocution. In addition, it can start an electrical fire.
Bootleg and Reverse Polarity
Reverse polarity is a hot/neutral reverse of wires and causes the same issue as described above with electrocution hazard.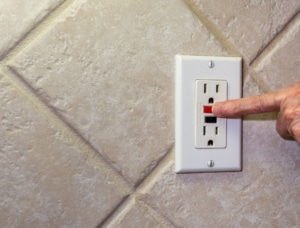 GFCI Protected Outlets
Many homes use GFCI protected outlets. If there is a bootleg ground, it may not trip as it should in a ground fault and also cause electrocution. Having a bootleg ground puts a whole family at risk and not worth their safety.
How to Know if You Have a Bootleg Ground
Bootleg grounds are commonly installed in homes built before the 1960s. To find out if you have a bootleg ground, turn off the electric at the panel box. Remove the receptacle cover and see if there is a jumper wire. If you are not sure, pull the receptacle out of the wall to check. Also, check that the white wires go to the white metal screws. Likewise, the green screw connects to a bare copper or green wire for proper ground. Unsure? Contact a licensed professional to help.
While you are at the electric panel box, make sure you don't have a Challenger GFCI recalled breaker or a FPE panel.
Want to find out if you have a bootleg ground with a test? Well, if you use a three-light tester, there may be a false reading. However, if you use a circuit analyzer or hire an inspector, you will get the actual result and peace of mind.
Home inspectors won't check for bootleg grounds during a home inspection, as it is beyond the scope of their job. However, sometimes people who have bootleg grounds in the home will have some two and three-prong outlets in the home, instead of all the same. People who put in bootleg ground usually don't change all of them in the home.
Moreover, while outlets may show proper grounding, there might be a lack of ground wires in the electrical panel. Therefore, homeowners or experienced home inspectors might suspect the home has bootleg grounds.
What if You Have Bootleg Grounds
Contact a professional for his/her recommendation/repairs.
Leave the two pronged outlet covers so it is known there is no protection from the ungrounded circuit.
Install GFCI protected receptacles or breakers.
Rewire the home with grounding wires.
Alternative to Bootleg Ground
Instead of installing these in the home, contact a licensed professional to properly ground three-prong outlets. It usually is not very expensive and will follow the National Electrical Code.
Other Areas to Check and Maintenance
1. Check that the metal box is grounded
In addition to making sure the receptacles are grounded, you want to know that the metal box is grounded. Where is this? It is behind the outlet. When you take the receptacle cover off and pull the outlet out, you can use a tester to see if it is grounded. Its purpose is to make sure that it doesn't send electricity through the ground to the breaker box.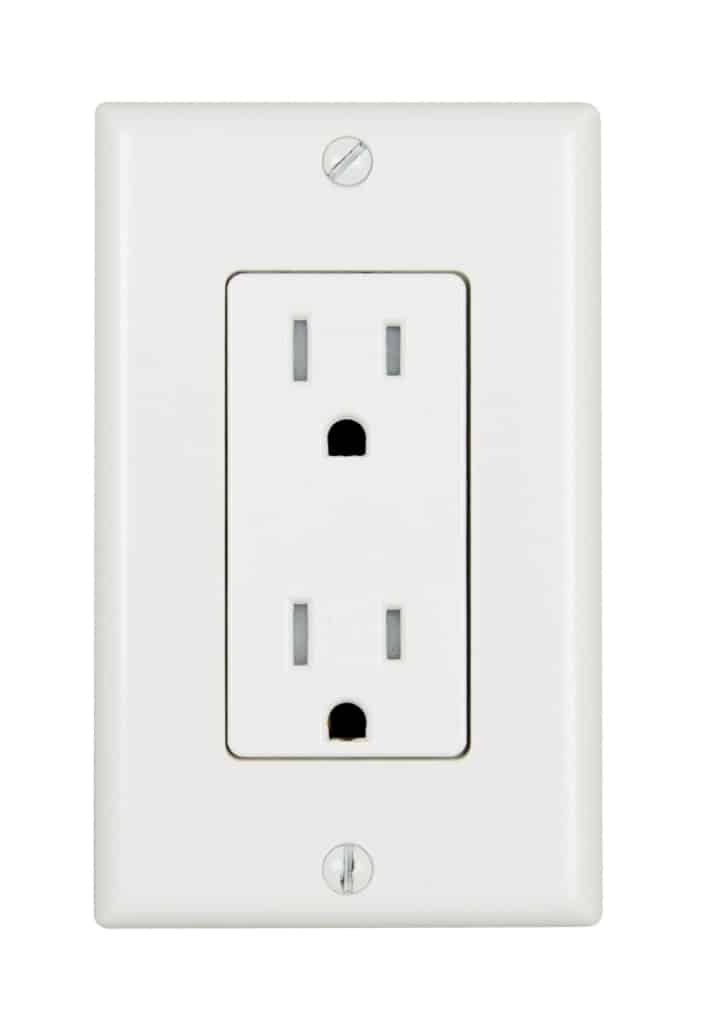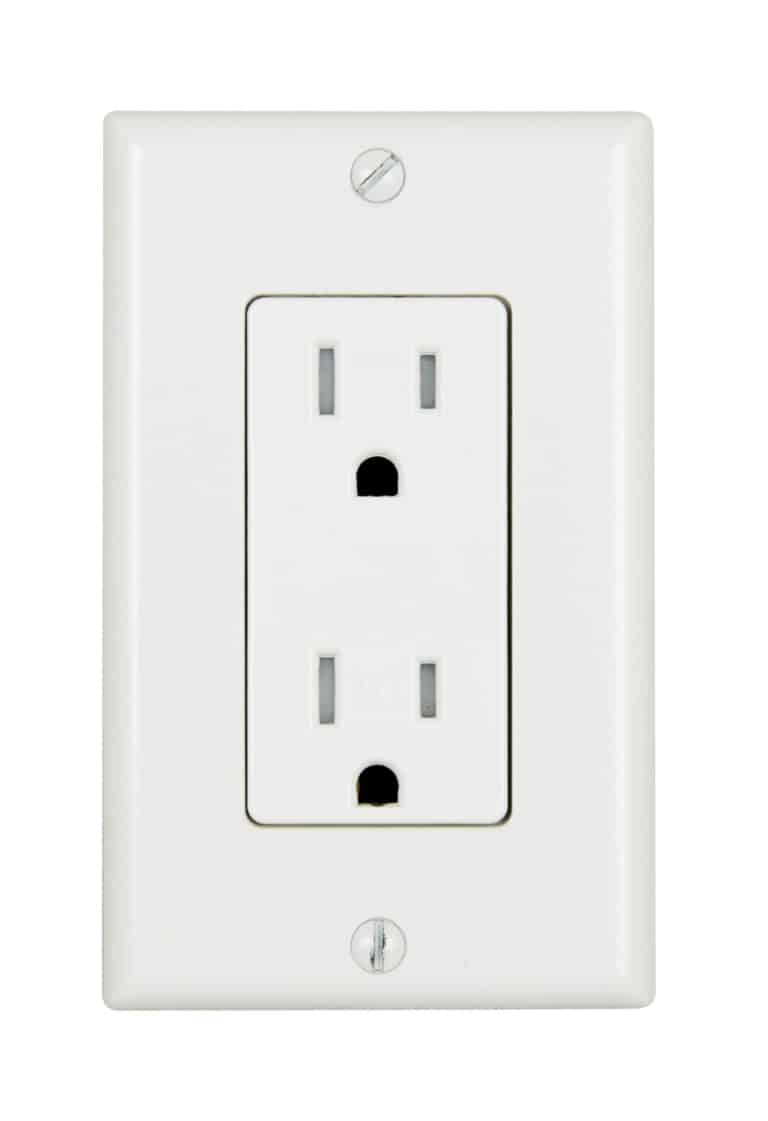 2. Tamper Resistant Outlet
You also want to make sure that you have a tamper resistant outlet. This is an outlet that when something is stuck into it that is not a plug, the shutters close up in it. This is to protect whoever is putting something in there that doesn't belong.
3. Maintenance of the Water Heater near the Electrical Panel
Most people have an electrical panel near the water heater in their garage. It is just as important to make sure the water heater is functioning properly so keep up with maintenance on it so you don't have any water or electricity issues.
When to Call a Professional
Call a professional when you need help figuring out if you have a bootleg ground, or if you need rewiring in the home or new three prong outlets added. Some homeowners can do this on their own, but don't be afraid to call a professional if you need help.
Conclusion
Anytime that something is "bootlegged" the quality is not going to be there. In the case of electricity, you are playing with danger. It is always best to pay a professional to ground the wires correctly and protecting family members should be the first priority. Concerned about whether your wires are ground or if you have the correct outlets or receptacles? We can take a look for you in the Jacksonville and St. Augustine areas. In need of our services? Leave a comment below!
https://insideandoutpropertyinspectors.com/wp-content/uploads/2021/04/Bootleg-ground.jpeg
562
750
BJ Johnson
https://d39oyu4lp7snwz.cloudfront.net/wp-content/uploads/sites/54/2019/08/31171419/io-favicon-300x300.png
BJ Johnson
2021-04-26 22:30:51
2021-11-30 15:22:42
Bootleg Grounds: Everything You Need To Know