How To Find A Water Leak Inside A Wall
Arriving home from a long day at work and you walk into your home to settle in for the night. While walking towards the kitchen, you look to your left and there is a watermark on your wall that was not there before you left. Immediately, you begin to panic. How to find a water leak inside the wall? The best way is to hire a professional to use a thermal imaging camera, moisture meter and to inspect the area.
Lucky for you, we will discuss all of your options should this occur in your home. Let's dive into the details.
Causes of a Water Leak Inside a Wall
Pipes
Leaks can come from many areas such as inside the walls due to faulty plumbing or cracks in the pipe. No matter what material is used for your plumbing, damage can occur to the pipes. Some homes might have Pex plumbing and this can damage easily as rodents like it. In colder climates, it does not do well in freezing temperatures.
Also, many older homes will have plumbing issues because they have galvanized or lead pipes.
The reason swimming pools up north are winterized and water is blown out of the pipes prior to sealing them, is to avoid the possibility of the pool pipes bursting underground during the winter months
Polybutylene Pipes
Polybutylene pipes were used in homes from 1978-1995 and are made of plastic, cheap, and not sturdy. They also react to chlorine and cause leaks at the connections. In 1978, builders in the Sun Belt states were using this pipe in homes until 1996. The failure of the pipes wreaked havoc on homes and thus a Class A lawsuit was filed against the manufacturers. In the end, $1 billion was awarded to the plaintiffs.
Roof
Also, consider that a roof might have a leak, and water can get in from above and seep down the wall, causing damage to the wall. Even though the majority of issues come from a plumbing issue, that is not always the main cause. Gutters can also back up and cause water to enter the home. Additionally, there can be problems with the eaves or downspouts clogging so keeping these areas clean and free of debris is important.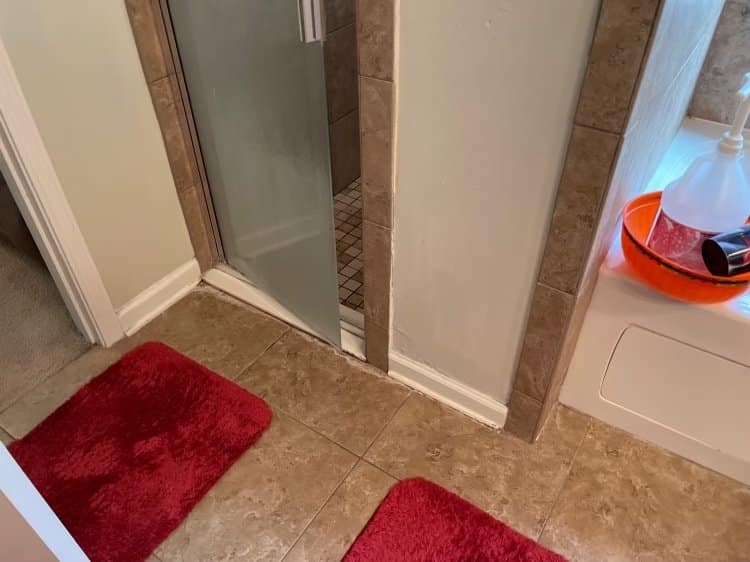 What Will The Water Leak Look Like
Noticing that you have a water leak is actually quite easy. There are many ways to tell and some are more easily seen. Let's review what a water leak would look like.
Wet spots on the wall – this will give the appearance that the wall is sweating. An example of this is in the pictures above in which it is leaking water outside of the shower enclosure.
Black or brown spots on the wall – this indicates mold or mildew has begun to grow
The paint on your walls start to peel and bubble up
Your wall is stained and discolored or even warped
A dripping sound is heard when water sources are turned off
Hot water leaks can cause a hot or warm spot on your floors and walls.
Smells of musty scents are detected by you as you walk past the walls
There may be a water leak underground if you are experiencing any of the above or it could be in the walls. If there is a water leak underground, a sewer scope inspection can be done. This inspection is done by an inspector who uses a special type of camera that goes through the drainpipe in the home and into the sewer lines. This allows the inspector to see if there are any issues or potential issues before you buy the home or while you are living in it.
Selecting The Right Test To Determine If There Is A Leak
Leak detection can be rather inexpensive considering the potential damage that has been occurred. There are a few ways to conduct leak detection, even as a home owner.
Moisture Detection Unit
There are moisture detection units that you can purchase from a local hardware store to assist you in your leak detection process. This device will analyze the moisture inside the wall. You will place the meter against the wall and collect measurements from four to five different spots. This data will allow you to determine where the most moisture buildup is occurring. However, you will still need a professional to find the source of the leak.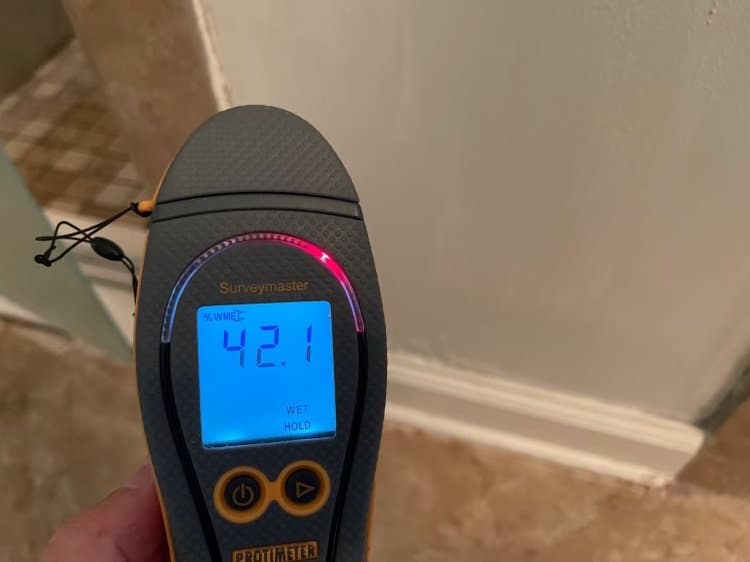 Infrared Thermography Inspection to Find a Water Leak Inside a Wall
Another leak detection tool is called an infrared camera. This camera will use thermography to analyze moisture in the walls by using optics, infrared energy, and surface temperature. A home inspection company that does this (not all do) will have certified inspectors in this area. Not every company does, but we do here at Inside and Out Property Inspectors! You need someone certified so they know how to read the colors on the camera and know where the temperature differential is. Thus, this will allow us to find the area where the leak will be, and instead of tearing down walls, it is zeroed into a particular area.
One of the last ways you can conduct leak detection is by cutting a hole in the drywall where the leak is showing. This will allow you to get in behind the wall for a direct view of where the possible leak is coming from. Keep in mind, this is the last resort as not all leaks are present in a direct location. Water can travel many feet prior to it actually damaging a wall. Lastly, this is why hiring a certified professional will save you time, money, and repairs in the end.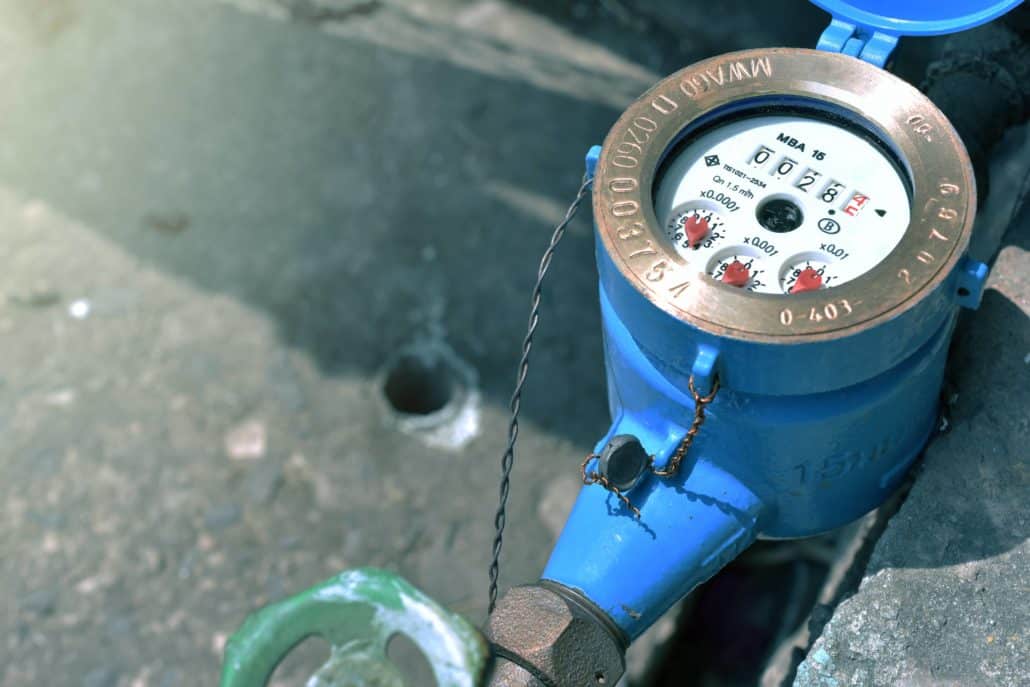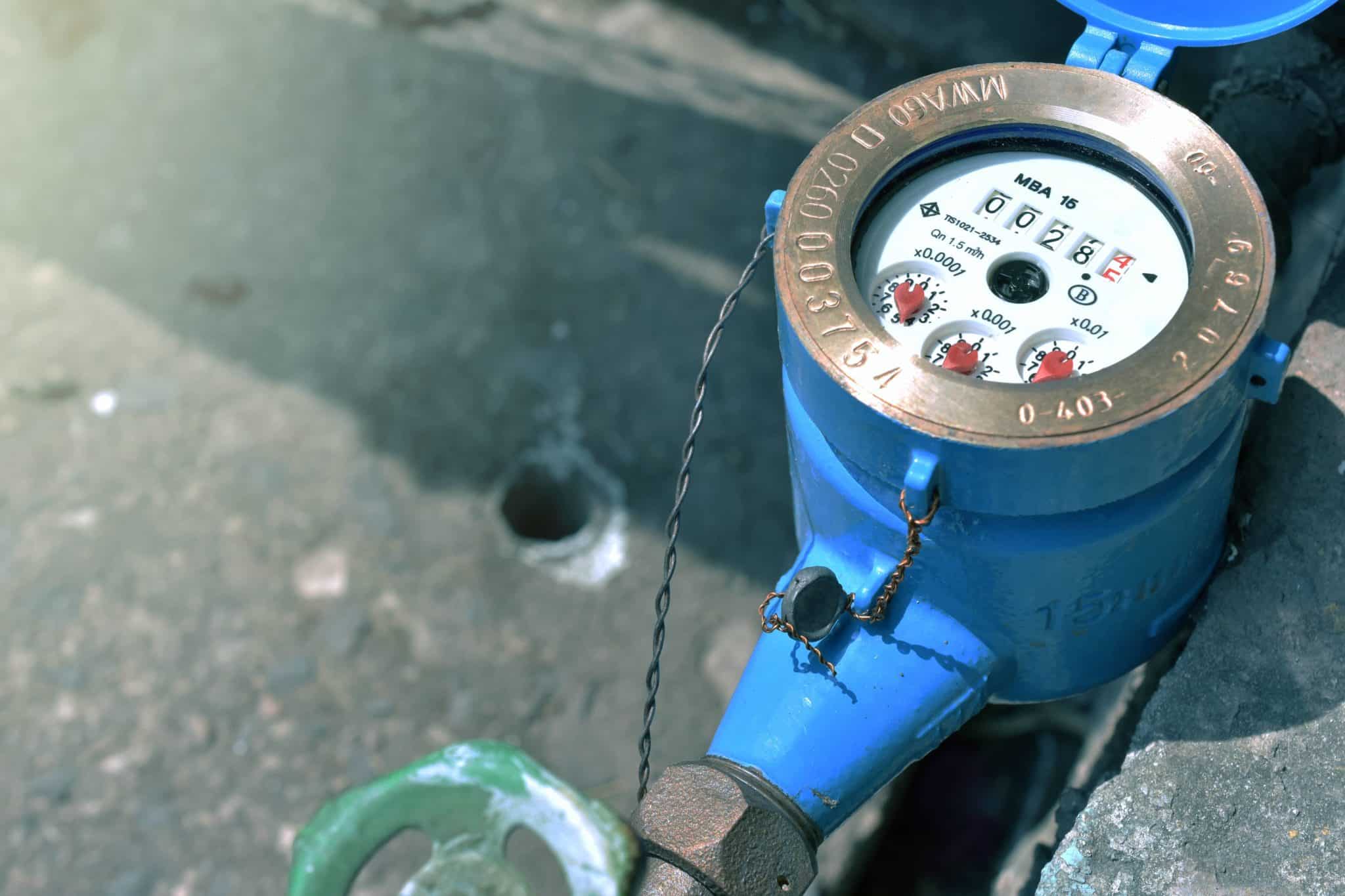 What to Do If I Find a Water Leak Inside a Wall
Turn off the water to the home.
This is located outside of your home, generally on the same side as your sprinkler system pump, or on the garage side if you do not have a sprinkler system.
2. Check your water meter. The water meter is located close to the road and is where the city water number is taken by their technicians each month.
3. Water meter still running? If the water meter is still running even after you have shut off your main water connection, then it is highly likely that you have a leak.
In this event, you should call a professional plumber or leak detection company to inspect your issues and determine what the costs of repairs might be.
How Much Is The Water Leak Going To Cost
There are a few factors that come into play when assessing the repair charges of water damage to your home's wall or ceiling. On average, the repairs can cost anywhere from $350 to $2,500 depending on the extent of the damage.
You also have to consider that a good water damage company is necessary to get a proper quote on all of the repairs. Not only will the walls need fixing, but plumbing and mold removal might be involved as well.
You are not the only one to have gone through a leak in a wall. Let's take a look at an informative video on how to approach the leaky scenario.
Maintenance of the Home
Eaves and Downspouts
It is imperative that you keep your eaves and downspouts associated with your gutter work free and clear of all debris. If the gutters get backed up with debris, it is possible for water to collect and build up with no place to go. Once the gutter overflows, the water could possibly enter your home's interior walls. Keeping the eaves and downspouts free and clear of debris on a regular basis will substantially reduce the chances of water entering your home.
Carpets
Make sure to check the carpets in your home to see if you have mold growing. This often can happen from roof leaks, as well as pipes that break or even flood in the home. Some maintenance ideas to avoid this are vacuuming often, replacing the air filter every 3 months in the HVAC, and making sure the air conditioner stays in the "auto" setting instead of the "on" setting.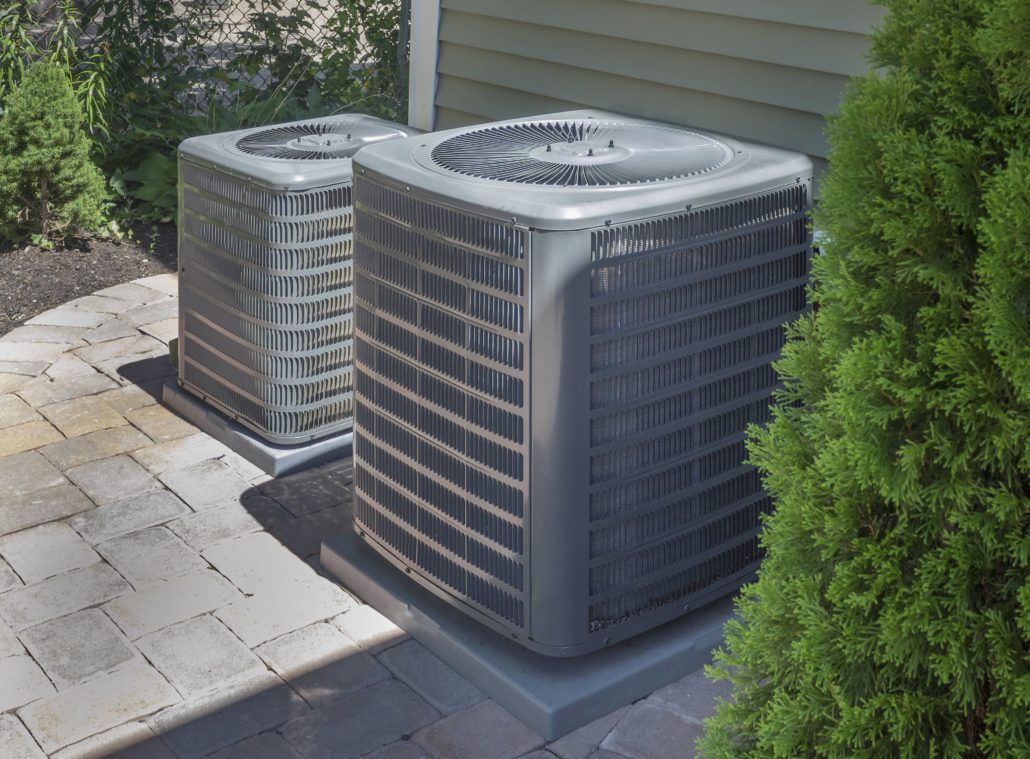 HVAC Systems
HVAC systems last about 10-15 years but do need maintenance. Make sure you are changing out the air filter every three months. This is important so you know that air is able to flow through. Also, check the air handler to make sure there is no water leaking. If there is or you see the coils freeze, you need to hire a professional.
When Should I Call A Professional
The moment that you notice any damage to your walls or ceiling is when you will want to call a professional water damage company. If you are not sure who to call, you will want to call the Inside and Out property inspectors. The team at Inside and Out property inspectors will be able to assess the damage and refer a more reputable water damage company. This will provide you with peace of mind as you get the best home repair care for your money.
Conclusion
Coming home after a long day of work and you notice a water puddle on the floor or signs of damage to your walls. These are examples of things that can ruin your day really quickly. Well, have no fear, we are here to help you. Inside and Out Property Inspectors can conduct an infrared thermography inspection on your home in the Jacksonville and St. Augustine, FL areas.
https://insideandoutpropertyinspectors.com/wp-content/uploads/2021/08/Moisture-on-the-walls.jpeg
1200
1600
BJ Johnson
https://d39oyu4lp7snwz.cloudfront.net/wp-content/uploads/sites/54/2019/08/31171419/io-favicon-300x300.png
BJ Johnson
2021-08-20 20:21:56
2023-03-23 14:53:52
How To Find A Water Leak Inside A Wall