Easy Ways to Clean Stucco
A home is a great place to own or rent and making the outside look nice is always fun with paint or landscaping. Also, homes are made of various materials such as brick, concrete, stone, or metal to name a few. Stucco is a very popular building plaster, especially here in Florida. While It is eco-friendly and a mixture of concrete, sand, and limestone, it is also highly porous and stains easily.
Stucco is nice to have, but it does need to be cleaned at least once a year. Are you wondering how to clean stucco? You will need a few things: A water hose, bucket, scrub brush, and a concentrated cleaner. You may even need a power washer if the stains are tough or it is a large area. Before you clean the stucco, there are a few things you need to do first. We will look at the steps needed and how to clean the stucco.
We will take a look at why you need to know how to clean stucco, things to think about first, before cleaning the stucco, starting the process, rinsing the stucco, other areas of maintenance, and when to call a professional.
Why You Need to Know How to Clean Stucco
Stucco is a great material to have on a home, but it does require a little more maintenance than vinyl siding or brick. It is important to clean it correctly and after surveying the home for cracks. Cleaning the home once a year will allow you to get the pollen, mold, mildew, moss, and algae off the house so you can keep the home looking great for years to come.
Things to Think About First Before Cleaning the Stucco
Time
Think about if you have the time to clean the stucco? It can take all day depending on the size of your home.
Budget
If you pay a professional to clean the stucco, it can range from $200-400 depending on where you live and the size of the home. Time is money and it may be nice (or necessary) to pay someone else to do it for you.
Safety
Using protective wear is important, and this includes goggles and gloves. Also, if you need to climb on a ladder to get to the stucco, think about if you are physically able to do that.
Here are the steps to cleaning stucco.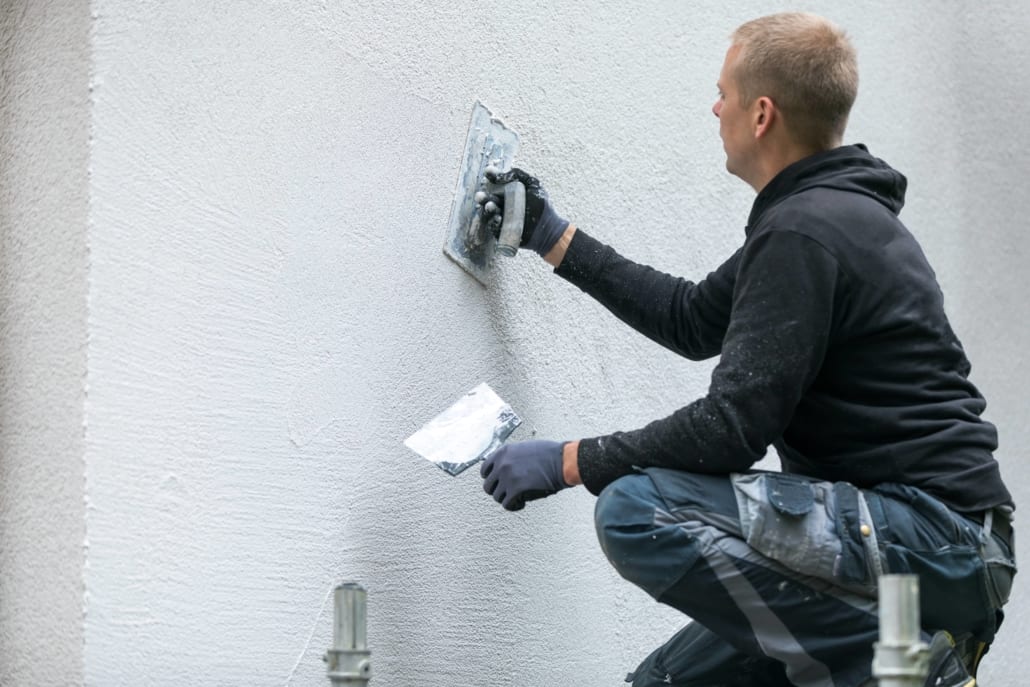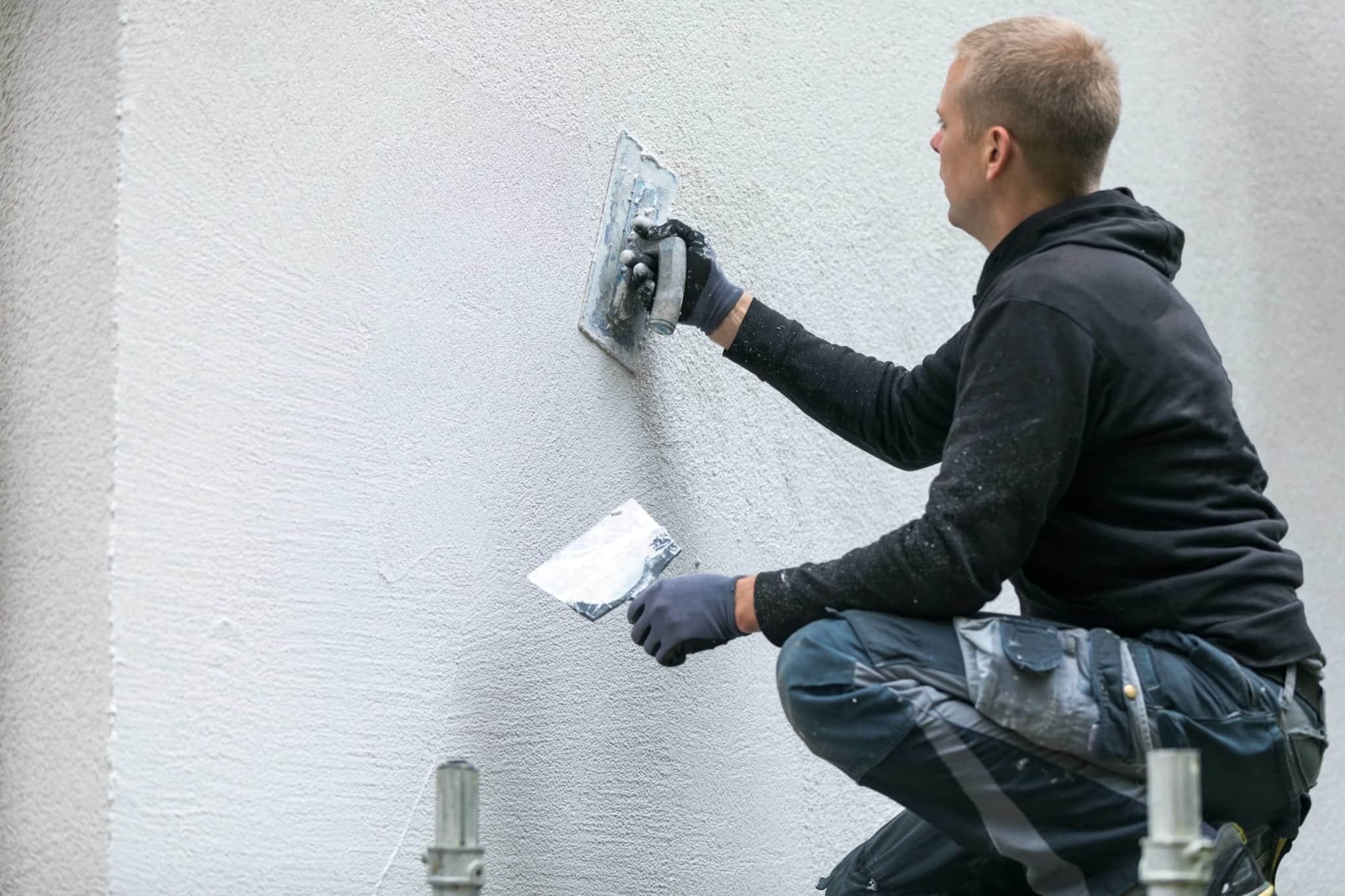 1. Before Cleaning, Check the Outside of the Home
Walking around the outside of the home to check for cracks is essential before you clean the home. You are looking for cracks in the stucco that need to be filled in. A homeowner can fix small cracks, such as less than 1/8. In fact, it is a great idea to try to do this on your own as it can save you money. Use Quickrete to make the repair or get a kit from a local home improvement store, around $5-$30. You can also use caulking designed to fill stucco cracks for those smaller cracks.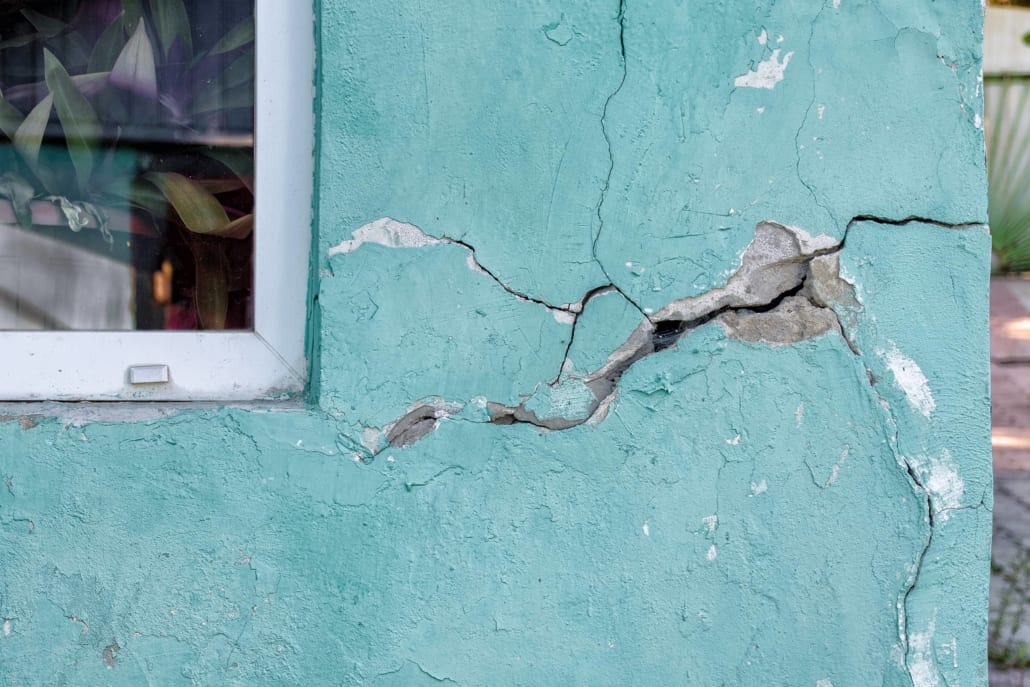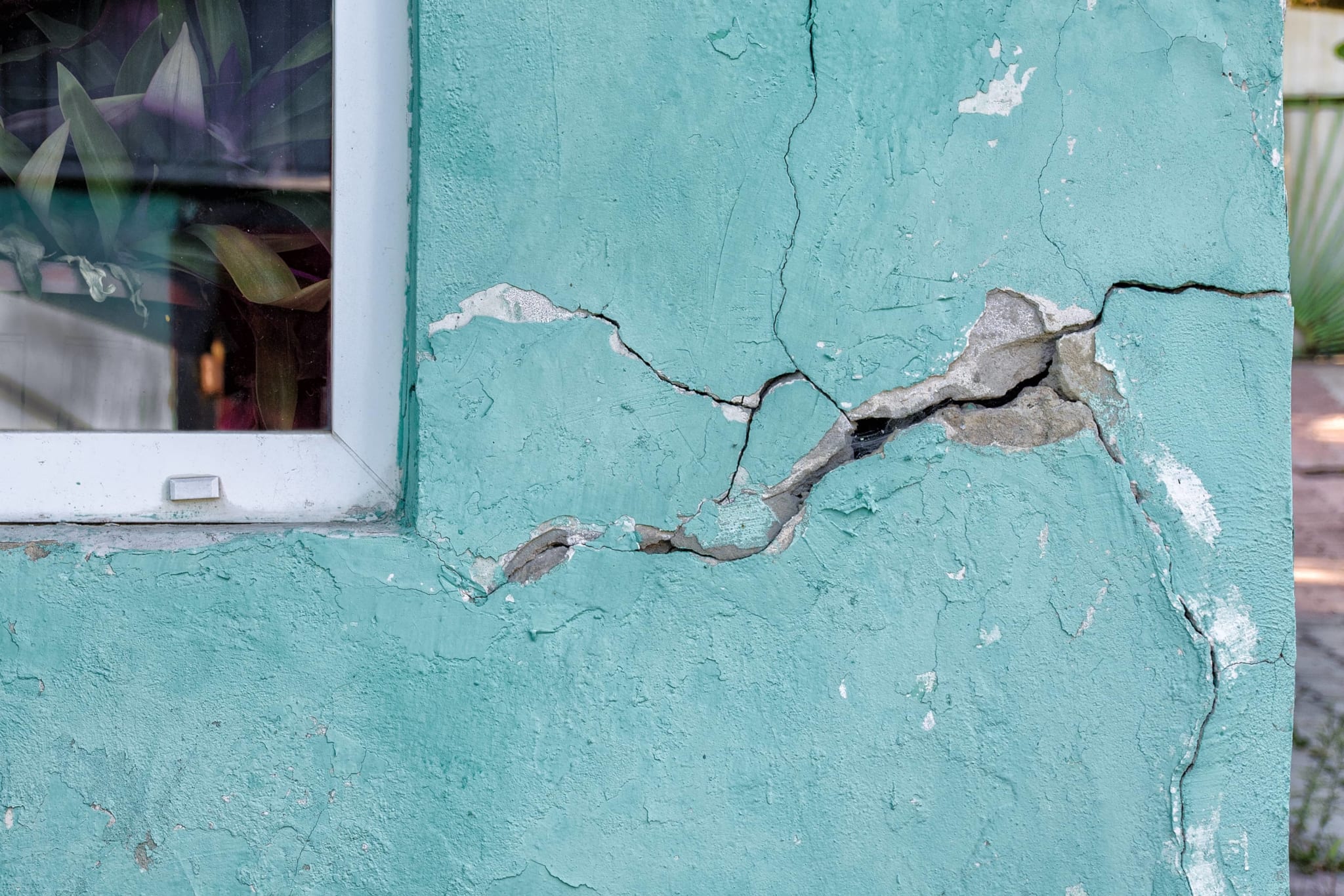 Issue Found While Checking the Outside of the Home
What if you find a crack that a credit card can fit into? This is something you need to contact a professional to check out. Issues may be found because of things such as:
Installation of the stucco was not properly done when the house was in the building stage
Expansion joints are not in the correct place
The stucco was not applied or mixed properly
The home is having structural movement
And others
Contacting a professional is your best bet in this case and hold off on cleaning that area of the stucco until the problem is fixed. We conduct stucco inspections in Jacksonville and St Augustine for this reason.
Here is a video about cleaning stucco. In this video, he starts with a fence, but you get the idea.
What Can Happen If There Are Cracks and You Continue to Clean the Stucco
If there are cracks and you continue to clean the stucco, mold and mildew can form. This is because water and other things have already gone into the crack and it is possible that it has gone into the home. Once it is in the home, it can become a big mess to clean up so the earlier you find it the better.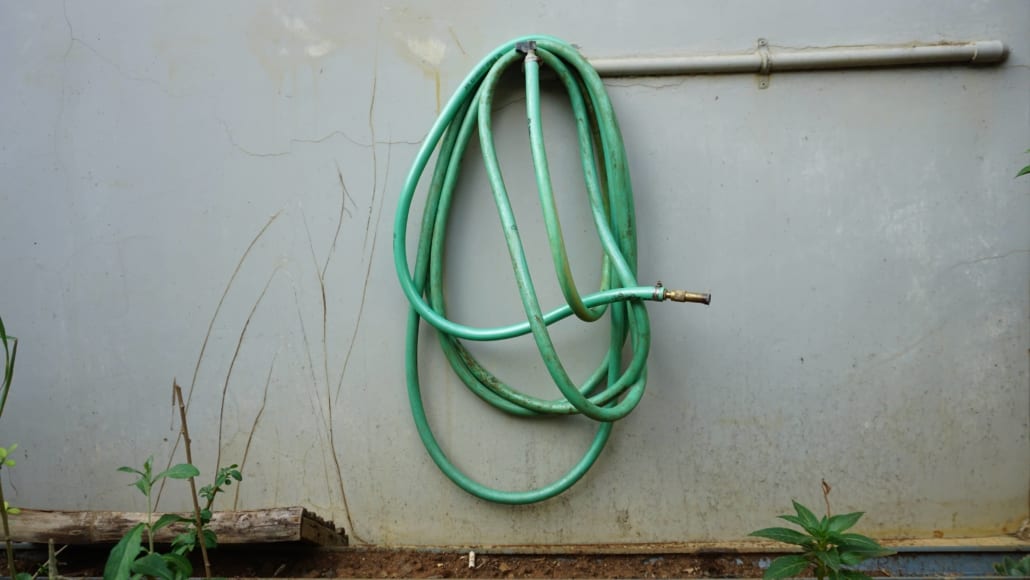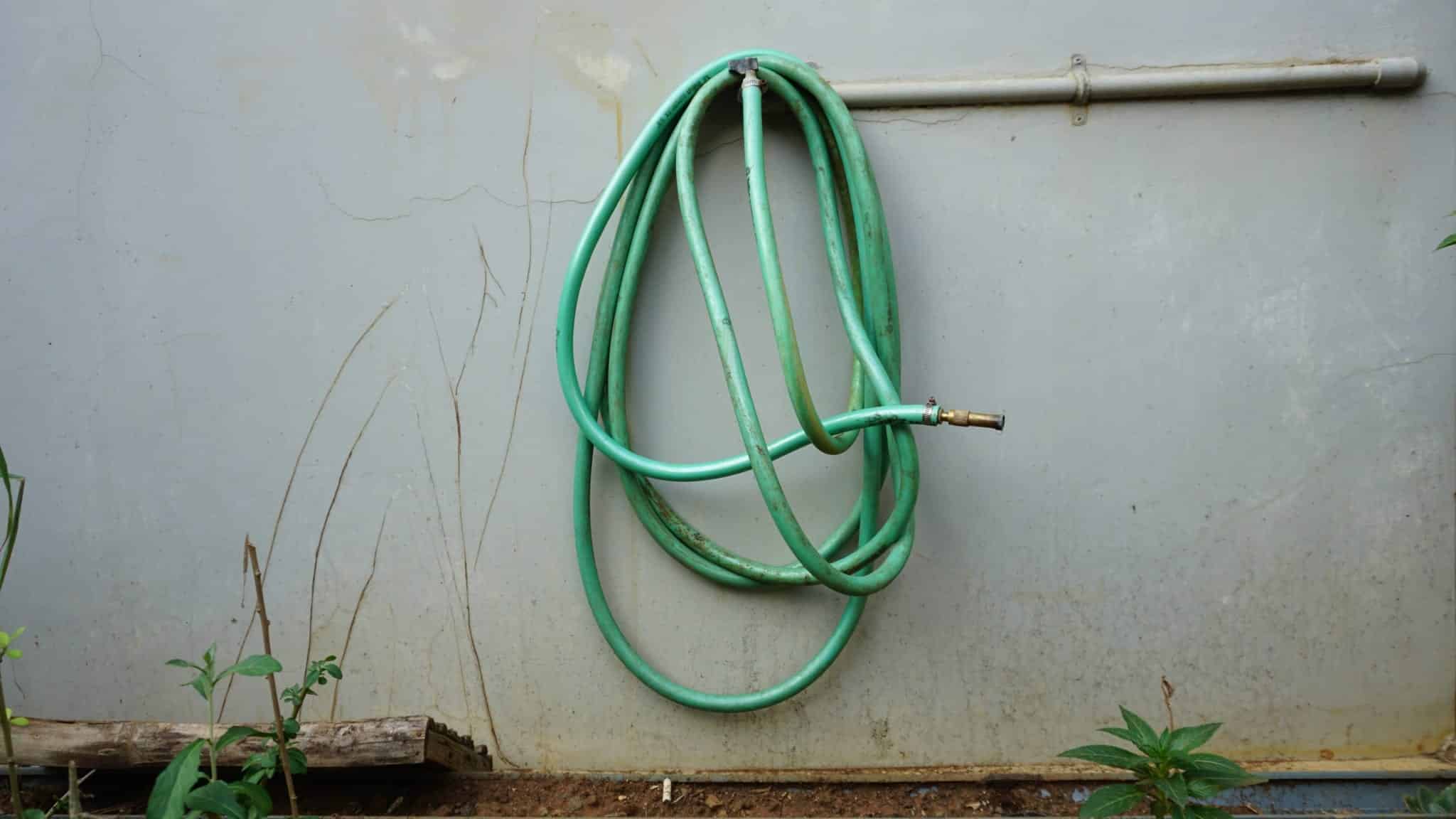 2. Start the Process of Cleaning the Stucco
After you check there are no issues or you fix them, you are ready to start the process of cleaning the stucco. Grab the following items:
Garden hose and attachment
Bucket
Heavy duty sponge
Pressure washer
Soft bristle brush
Cleaning detergent
You will be working in a small area each time. Starting with the garden hose, you will spray the house and start to see the dirt coming off. You may need to put the attachment on the hose if you need it to spray harder to get tough to remove spots or in crevices.
You may even want to use a power washer if you have one or can borrow one. However, make sure you know how to use it properly. If you go this route, use a pressure level of 1,500 PSI or below and a 25- or 40-degree nozzle. Remember the surface of stucco is porous and too strong of pressure will damage it. Check there are at least 24 inches between the nozzle and the stucco surface and rinse the surface at a 45-degree angle.
After Removing the Dirt
Then, once all the dirt is removed, you can mix dish soap, borax, and water together to create a cleaner. This is done by taking 2 gallons of warm water, 1/2 cup of Borax, and 2 tablespoons of liquid dish soap and mix it together. If you choose to use the pressure washer for this, apply the solution at a downward angle using a 65-degree nozzle tip, leaving 18 to 24 inches between the nozzle tip and the stucco surface. Let it sit for 5-10 minutes but don't let it dry, it will be harder to wash off.
The other option is to get a good stucco cleaner to help get the stains off and make the area shine brighter. Follow the directions on the packaging and use the heavy sponge to wash it off. The last resort is always bleach as a cleaner.
If you find algae or mold on the outside of the house, you can use the cleaner you made to clean it off the house. Also, you may want to investigate where it came from as well.
3. Rinse the Stucco
Lastly, take a soft bristle brush to get the stubborn stains off and rinse with the hose. You always need to rinse the house from top to bottom when applying any cleaners. Finding rust stains? You may need a rust remover and a pump sprayer and the local hardware store can help you find the right one. As always, rinse off any chemicals you put on a home.
If you aren't comfortable cleaning this on your own, you can hire a professional.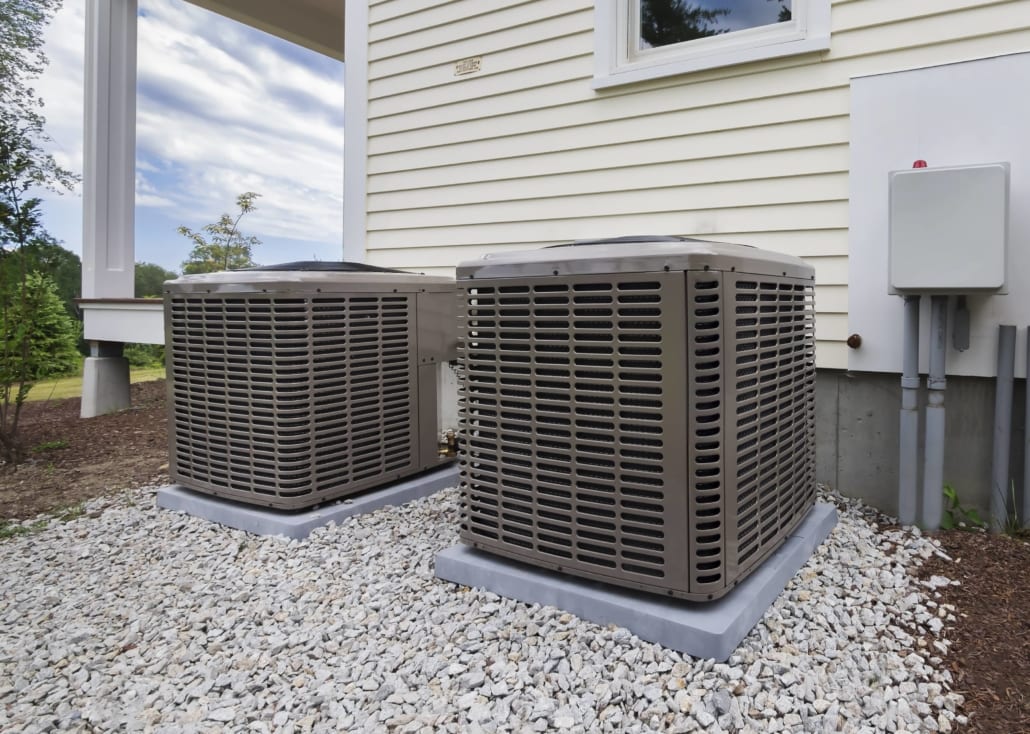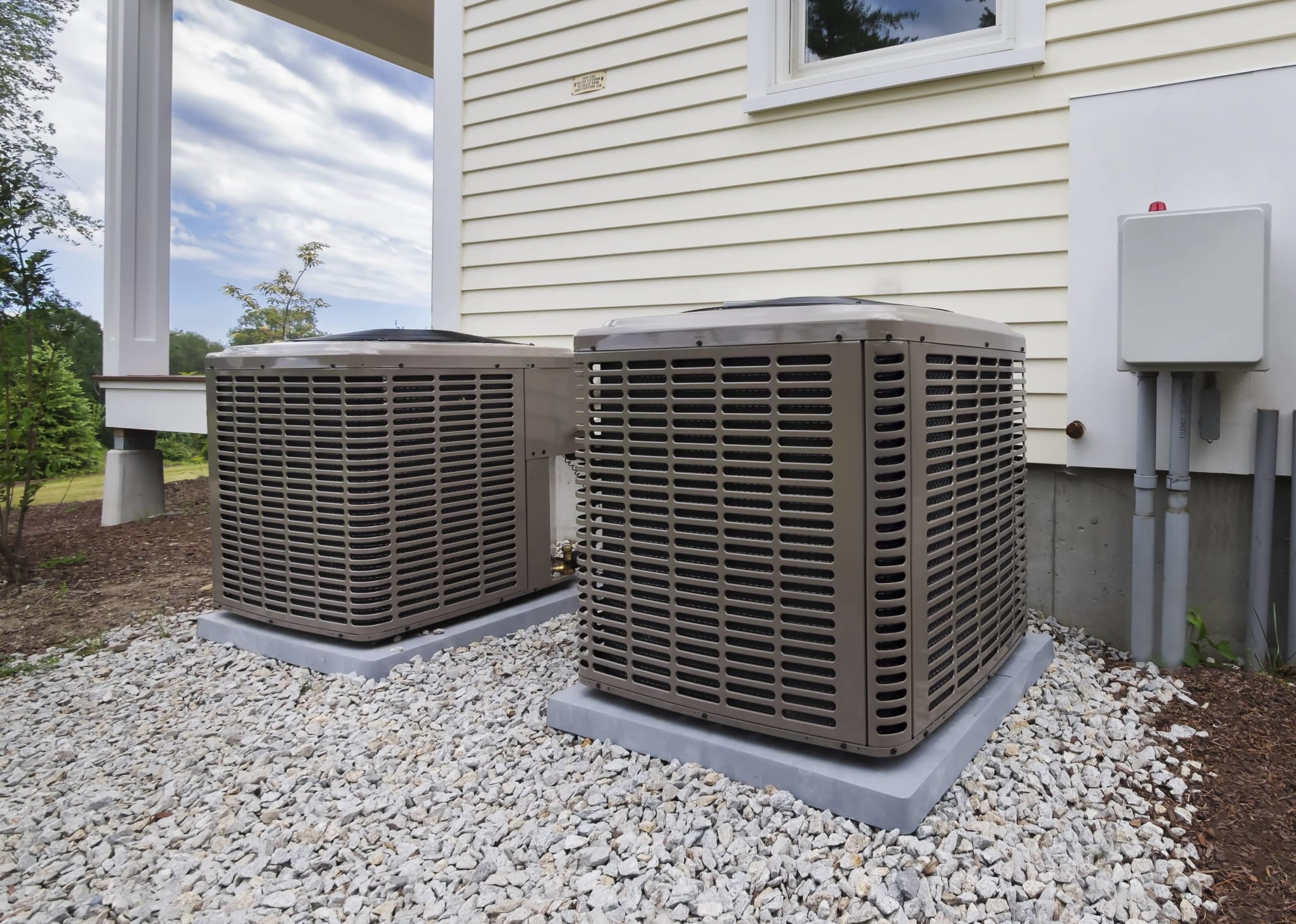 Other Areas of Maintenance
Check the HVAC
While you are cleaning the stucco, check the HVAC outside to see if the grass is away from the unit and it is working. Go inside the home to where the air handler is and make sure it turns on and there is no water leaking. If you do find water is leaking from your air handler, it could be a few things that you would want to check out. If you are not sure, contact a professional.
Check the Windows
Does it seem like the windows leak when it rains? This can be due to a number of factors such as a crack in stucco, poor paint, cracked sealant, or more! Calling a professional may be best to find where the leak is.
Gutters Should Be Clean and Have Downspouts
Cleaning the gutters out and allowing debris to flow smoothly into the downspouts and out to the yard is important. If they are clogging, clean them out. If not, the water can back up into the home.
When to Call a Professional
Call a professional if you need help cleaning the stucco, or you find cracks or other issues around the exterior of the home. Also, they are helpful with diagnosing issues and helping you solve them. If something doesn't seem right, it is always better to call someone to ask. You want your home to last a very long time so taking care of it is imperative.
Conclusion
Stucco is common in many houses, especially on ones built here in the south. But just like with everything, it needs to be kept clean and taken care of. You want the stucco to last a long time and for that to happen, you need to take care of it. Inside and Out Property Inspectors will inspect the stucco during your home inspection. We also inspect stucco as a standalone inspection.
https://insideandoutpropertyinspectors.com/wp-content/uploads/2021/06/dirty-stucco-scaled.jpeg
1732
2560
BJ Johnson
https://d39oyu4lp7snwz.cloudfront.net/wp-content/uploads/sites/54/2019/08/31171419/io-favicon-300x300.png
BJ Johnson
2021-06-04 15:22:28
2021-06-04 18:41:27
Easy Ways to Clean Stucco