How Long To Run Drip Irrigation For Shrubs
There are different ways to irrigate plants. It depends on if you have a large garden or if you have just a few. In the end, you want to save money and not have a high water bill. Drip irrigation is one of the ways and it is better than a sprinkler. This is because it delivers water to the base of the plant and lowers the risk of overwatering and helps with root growth. Wondering how long to run drip irrigation for shrubs? It depends on the type of soil, but it is usually one hour a week.
Let's take a look.
Why Drip Irrigation?
As mentioned above, drip irrigation is a better system than a sprinkler for shrubs as it zeroes in on an area, and has a low flow rate and slower rate of watering so the ground has time to absorb the water. Made of plastic flexible pipes, it is usually placed at the surface of the soil and covered with mulch or rock. It is usually used for plants that have roots such as fruits, vegetables, and shrubs.
Drip irrigation is used often for crops that are high-value because of the cost of installing a drip system and a timer is set to make sure it does not run too long. It is not used as much in lawns and fields or low-value vegetation. Those areas are better off with a traditional sprinkler system.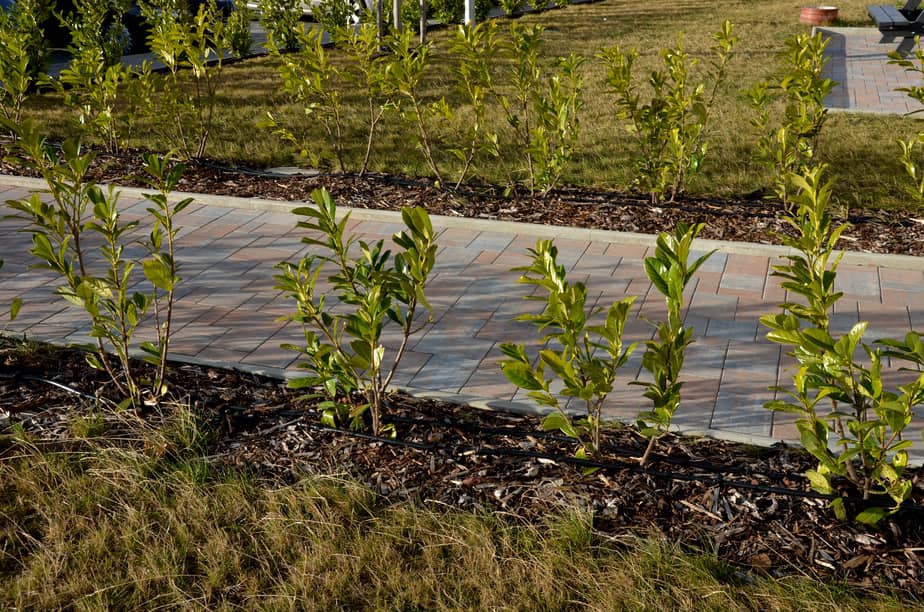 How Long to Run Drip Irrigation?
How long you run the drip irrigation system will depend on what you are watering. For example, trees may need 90 minutes twice a month. A flower bed may need twice a week for 60 minutes each time. The time for watering will vary because of the plants that are being watered and the emitters that are used. This is also because the emitters can put out 1/2 gallon up to 4 gallons per hour of water.
It also depends on the time of year as to when to run it and how long. One day a week in the months of April, May, September, and October. It is run twice a day from June to August if it is needed. However, that will also depend on where you live as here in Florida summer months are our rainy season and the drip irrigation probably does not need to run.
The length of time varies from 45 minutes to 1 hour each time to run this drip irrigation system to water shrubs. After you water, check the moisture of the soil in the root zone. Adjust the amount of time for the drip irrigation to run if needed. Then, check it twice a month to make sure that it functioning properly. If the area is newly landscaped, then it may need watering three days a week for about 30 minutes each. Checking the moisture of the soil each day is important.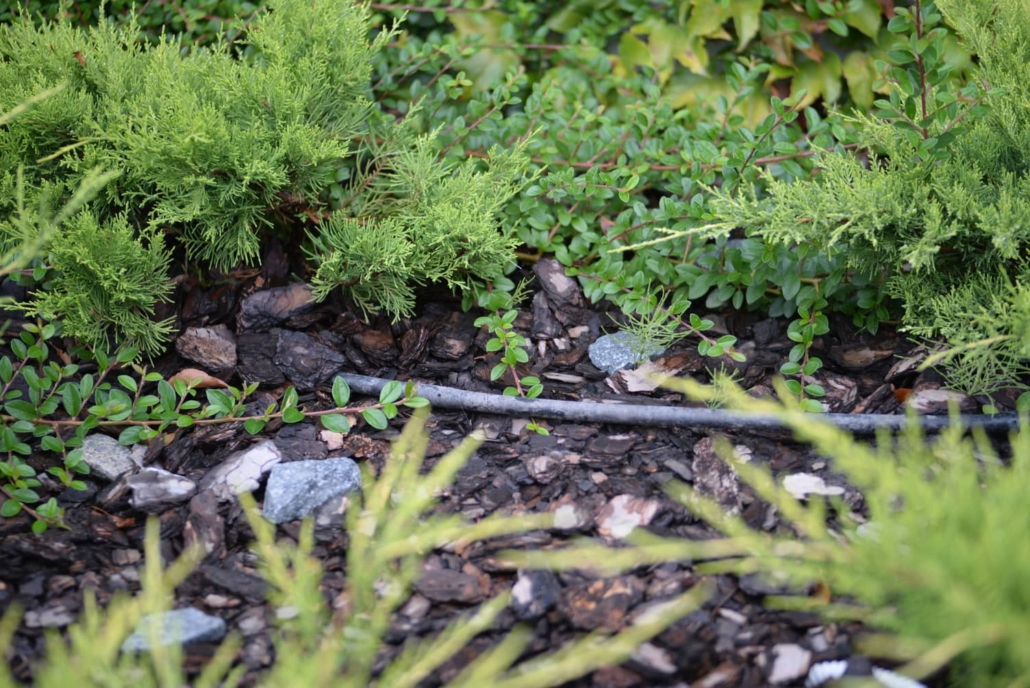 Benefits of Drip Irrigation
There are a few benefits of drip irrigation to think about. Let's take a look.
Healthy Plants – drip irrigation makes it possible for deep root growth. This is important in order for the plants to be healthy and allows them to be able to get through drought conditions when they happen.
Efficiency of Water – less water evaporates and less runoff due to water going to the plant's roots.
Pest Control – this system helps get rid of certain pests and diseases. Wet leaves are more prone to fungal infections and standing water attracts mosquitoes. Since the irrigation system waters at the base of the plants, this issue is reduced.
How Much Does It Cost?
The average cost for a drip irrigation system is about $490. However, installation costs between $300 and $800.
Other Recommended Maintenance
Now that you know about irrigation systems, let's look at some other areas of maintenance. One of those deals with your garden. Most homeowners do not like to pull weeds so many will find ways to deal with them. One of those ways is landscape fabric. Landscape fabric lets through a little bit of water, but most of it sits on top of the fabric. There are other alternatives such as newspaper, cardboard, and wood mulch.
Another area is knowing what temperature is too hot to water the grass. Here in Florida, it heats up quickly, so once the temperature rises above 95 degrees (no matter where you live), it is a good idea to wait. Many people will set their irrigation system to come on at night or in the early morning hours around sunrise to take advantage of the cooler temperatures.
Lastly, you may be wondering what to do with your garden. Using landscape rock is a good idea as it does not attract bugs. It is actually better than using some types of mulch that decompose and provide a food source for pests. You won't run into this problem with landscape rock and it is aesthetically pleasing.
When Do I Call Inside and Out Property Inspectors?
Installing a drip irrigation can be difficult so it may be a good idea to call Inside and Out Property Inspectors. If you are finding that you aren't sure how to install it or having issues with it, we are a phone call away. This type of system will save you money in the long run. While you are adding things like this to your yard, it may be a good time to also have a home inspection.
Conclusion
Every homeowner likes to save money and also make life simpler. Using a drip irrigation system will do that. If it is not working correctly or there are other issues, calling a local professional is needed. Inside and Out Property Inspectors home inspection team can look at the irrigation system and recommend a reputable company to fix it. Contact Inside and Out Property Inspectors in Jacksonville, FL, and surrounding areas to get your sewer scope inspection done today.
https://insideandoutpropertyinspectors.com/wp-content/uploads/2023/07/drip_irrigation_25.jpeg
928
1392
BJ Johnson
https://d39oyu4lp7snwz.cloudfront.net/wp-content/uploads/sites/54/2019/08/31171419/io-favicon-300x300.png
BJ Johnson
2023-07-26 17:15:03
2023-08-13 21:26:34
How Long To Run Drip Irrigation For Shrubs