How To Kill Moss On Brick
Owning a home requires a lot of maintenance. Imagine that you are about to throw a summer party and you haven't paid any attention to your brick patio and exterior brick walls. You take a look around as you plan your party preps and notice a large amount of moss has taken over your brick. Are you wondering how to kill moss on brick? Either hire a professional cleaning service or utilize an eco-friendly chemical and your pressure washer.
Let's take a look below at the best ways to manage and kill or clean moss off brick.
How Can I Clean Moss Off Brick?
Applying a household chemical such as bleach and water to the moss on the brick is a great way to kill and remove it. Keep in mind, bleach is not eco-friendly and can be replaced with other products. One of the safest products to use would be vinegar. Mixing equal parts vinegar with equal parts water to ensure an environmentally friendly solution that can be used to kill moss. Also, it will not kill surrounding plants. Let the mixture soak into the moss for 15 to 20 minutes. Then take your pressure washer and scrub brush to remove the moss from the brick surface.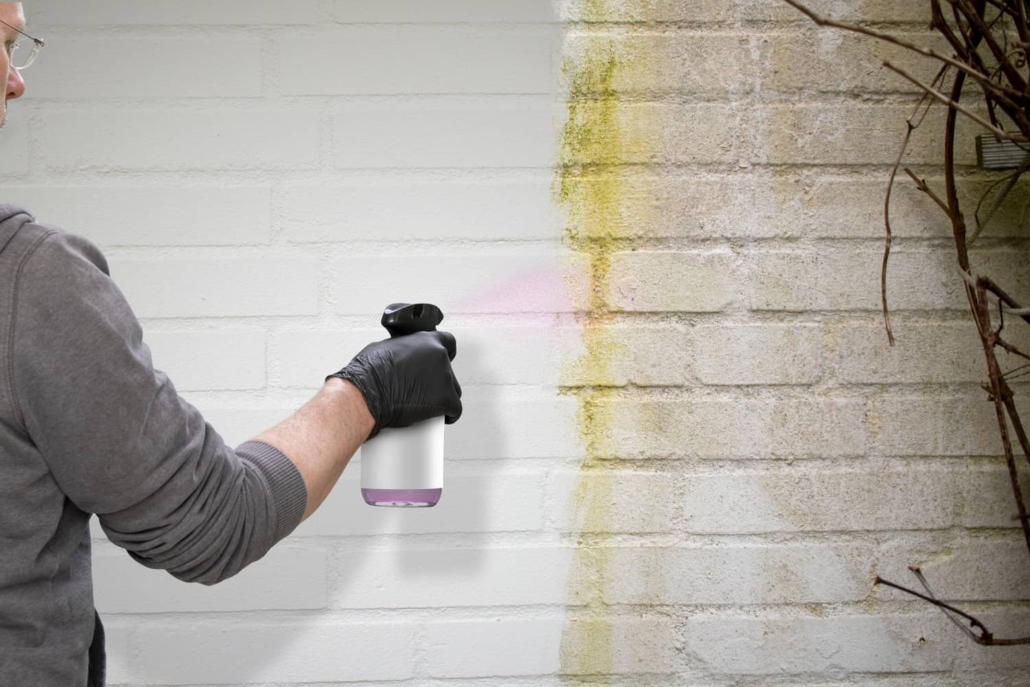 What Are The Best Ways To Keep Moss Off Brick?
Believe it or not, there are a few ways that you can keep moss growth off your brick surfaces. Let's take a look below at what those options are.
Sunlight
Exposing your brick wall or brick patio to sunlight is a great way to keep moss off of the surface. Moss only grows on dark and damp surfaces. Sunlight will naturally kill or prevent moss from growing.
Irrigation
Check your sprinkler system for where the zones are spraying. Also, check for leaks in your sprinkler system. A leaky faucet or sprinkler head can promote the damp and dark zone for moss to grow.
Boiling Water
Using hot water, such as boiling water is a great way to prevent moss from growing on your hardscape. Additionally, a good scrubbing after the boiling water is applied is a great way to keep the moss off of the brick. Also, it is eco-friendly preventative maintenance.
Vinegar
A vinegar and water mixture is a great combination for treating and killing moss. Anytime you use an eco-friendly solution, this is a great way to kill and keep moss away. Be sure to scrub the area or use a pressure washer to remove any moss from the brick.
Power Washing
Pressure washing or power washing the surface is a necessity for completely removing the moss from your brick. Completing this project once a month will ensure that your brick surfaces stay clean and look brand new. Use your garden hose and a nozzle if you do not have access to a power washer.
Baking Soda
Another great eco-friendly product for killing moss from the brick is baking soda. Pour the baking soda directly on the moss and leave it overnight. The next day, brush the area and scrub or power wash the moss off of the brick.
What Other Options Do I Have?
Unfortunately, if you aren't big on eco-friendly concepts and want to zap away the moss and surrounding vegetation for a long time, you can use the following chemicals below.
Bleach
Mixing one cup of bleach with two gallons of water and spraying the solution onto moss will suffice. Let the mixture sit for 15 minutes. Using water in a spray bottle allows the beach to soak into the moss and kill it. Also, avoid pouring bleach directly onto the surface.
Commercial Moss Killer
Commercial moss killers are products that are not deemed to be very safe. Although these products can be purchased at your local hardware store, it is important to consider using these products as a last resort.
How Can I Clean Moss Off Other Surfaces?
Remember that moss can grow on several solid surfaces. Damp and dark surfaces are breeding grounds for moss. If you have a situation of moss growing on your solid surfaces other than brick, use a spray bottle with a water and bleach mixture. Spray the solution on the brick and use a scrub brush to remove the moss from the solid surface. Keep in mind that using bleach should be done with protective gear and away from pets and children. Consequently, pressure washing regularly with an eco-friendly solution such as vinegar is perfect for maintaining your solid surfaces.
How Much Does It Cost To Clean?
Keep in mind that the cost of removing moss from brick walls or patios will be based on the square footage of the project. The national average cost to remove the moss ranges from $0.58 to $1.00 per square foot. Additionally, you will be expected to pay a labor charge to complete the project. Most professionals charge a service fee between $45 and $65 per hour. Also, in some cases, you will just pay a flat rate of $90 to $120 per job.
Other Recommended Maintenance
Now that you are aware of how to kill moss on brick, it is a great idea to read up on how to kill moss on your roof. Believe it or not, there are likely similarities between killing moss on brick and killing moss on a roof.
Next, while you have your pressure washer out cleaning your brick patio, you might want to consider cleaning your stucco walls. It is important to read up on easy ways to clean stucco before you go assuming that you have the answer. Reading the suggestions might surprise you and make your task a lot simpler.
Lastly, gain an understanding of where moss and mold like to grow. As stated above, dark and damp places are very popular for moss and mold. In some cases, mold will grow well before any moss has a chance. This can occur on solid surfaces such as concrete blocks. If you happen to have a concrete block home or have used concrete blocks in parts of your home, you will want to know how to control mold growing on concrete blocks.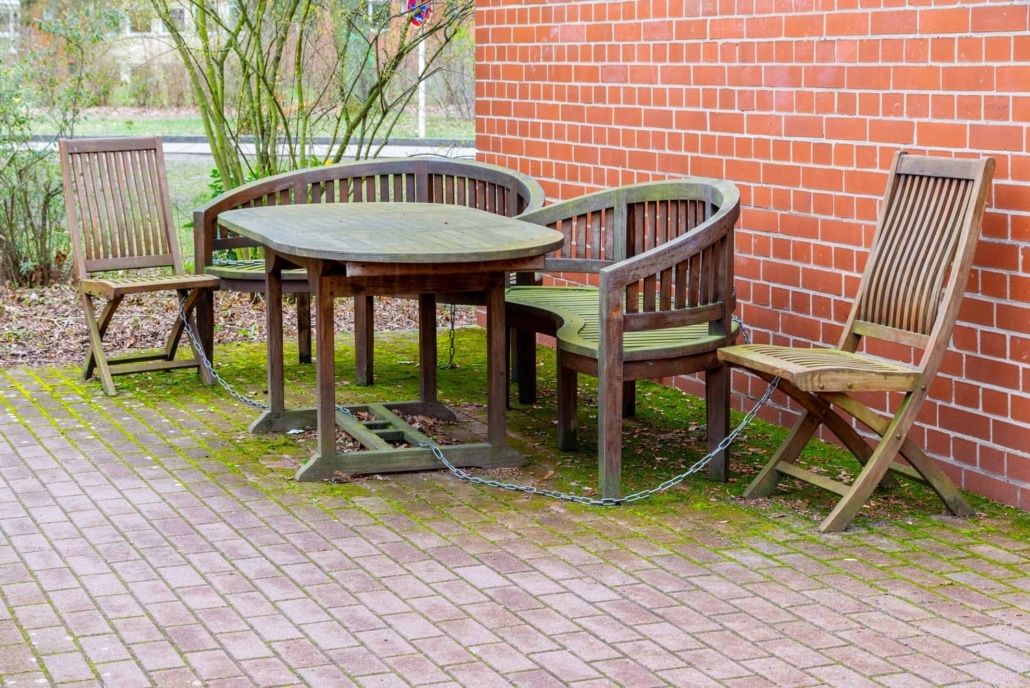 When Do I Call A Professional?
Getting moss off your brick walls or paver brick patio is a project that can be easily accomplished. If you don't have a pressure washer available, you are going to want to use a professional pressure washing company. Also, you should not mix your chemicals incorrectly. Using the wrong chemicals can damage your brick and cause health concerns for you and your family. Consequently, to avoid any issues with your health and chemical damage, use a professional.
Conclusion
Mosses are known to grow on a brick when the area is dark and damp. The moment that you notice moss growing on your brick wall or brick paver patio, it is likely an area that does not get sun. Consult your local pressure washing professional on how to kill and clean the moss off of your brick. Also, call on your local home inspection team to determine where the moss is likely to grow back and where it is concentrated the most. Reach out to Inside and Out Property Inspectors in Jacksonville, FL, and surrounding areas to get your home inspection done today.
https://insideandoutpropertyinspectors.com/wp-content/uploads/2023/03/moss_on_brick_wall_25.jpeg
1072
1606
BJ Johnson
https://d39oyu4lp7snwz.cloudfront.net/wp-content/uploads/sites/54/2019/08/31171419/io-favicon-300x300.png
BJ Johnson
2023-03-31 00:17:19
2023-03-31 00:17:19
How To Kill Moss On Brick