How to Fix a Sagging Door
Despite their necessity, doors are a part of the home that tends to get taken for granted. Not much door maintenance is common knowledge, and the average homeowner likely won't consider this until a door starts to sag, refusing to close or scraping against hardwood floors. So, how do you fix a sagging door? Where do you start?
While it sounds pretty involved, it's simpler than you might think. In this article, we'll walk through the process of fixing a sagging door, from identifying the problem to implementing the solution. You'll also leave with helpful tips on other maintenance tasks to keep every door in the house functioning smoothly and avoid repairs or replacements moving forward. Let's get to it!
What Causes a Sagging Door?
First, let's understand the potential causes of this issue. Knowing the root causes can equip you to prevent future sagging and extend your doors' lifespan.
Wear and Tear
Frequent opening and closing can gradually loosen hinges or distort a door frame, making wear and tear a common cause of door sagging.
Insufficient Hardware
Sometimes, a door's hardware may not be robust enough to support it, especially if it's heavier. Small or weak hinges could struggle with the door's weight, resulting in sagging.
Weather Changes
In particular, weather changes can affect wooden doors. They tend to expand in humid weather and contract in dry conditions. This continuous cycle can warp the door, causing it to sag.
Incorrect Installation
Finally, a door installed improperly might start sagging prematurely. This can stem from incorrect hinge placement, a poorly sized door for the frame, or other installation errors.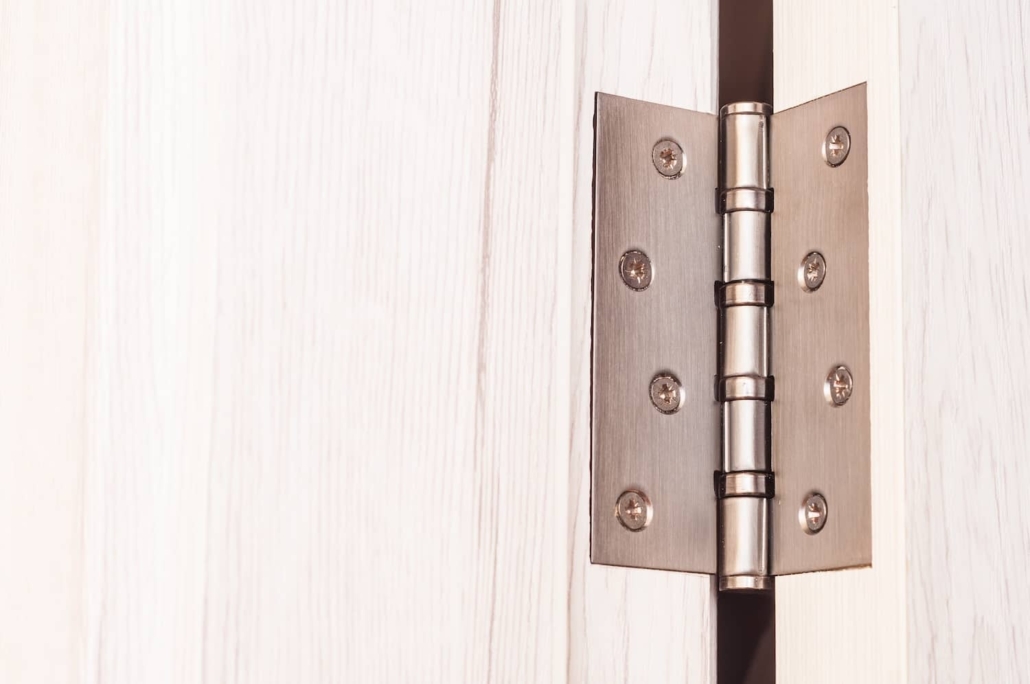 Inspecting Your Sagging Door
Now that we understand the potential causes behind a sagging door, it's time to roll up our sleeves and start the inspection process. A thorough examination will help identify where the problem lies. Here's what to look for:
Checking the Door Hinges
Begin with the door hinges. The screws securing the hinges can loosen over time, leading to door sagging. Tighten any loose screws. If they're tight and the door is still sagging, the hinges might be worn out or too small.
Examining the Door Frame
Next, examine the door frame to ensure it's square. A sagging door may be the result of a door frame that has shifted out of the square. To confirm this, you can check this by measuring diagonally from corner to corner. If the measurements don't match, the frame isn't square.
Assessing the Door Itself
Lastly, inspect the door. Does it twist or warp? Humidity changes can warp wooden doors over time. If the door does have a warp, it likely contributes to the sagging.
Let's Fix That Sagging Door: A Step-by-Step Guide
Now, it's time to get to work. Here's a step-by-step guide on how to fix a sagging door:
Step 1: Tighten the Hinge Screws
The first and easiest step is to tighten the screws on the door hinges. You'll need a screwdriver for this task. Ensure each screw is tight, but be careful not to strip the screw head. If a screw continues to spin without tightening, it may be stripped. In this case, you may need to use a longer screw or fill the hole with a wooden matchstick and wood glue before reinserting the screw.
Step 2: Replace Worn Out Hinges
Then, if the hinges are worn out or not sturdy enough to support the door, they'll need to be replaced. Remember to choose hinges that are strong enough for the door's weight. A hardware store can help you select appropriately sized hinges. When replacing, do one hinge at a time to maintain alignment.
Step 3: Square the Door Frame
Next, if your door frame isn't square, you'll need to adjust it. Doing this may involve removing the frame or adding shims to the corners to ensure it's squared. A carpenter's square can help you verify the angles. Remember, any adjustment to the frame should be done carefully, as it can impact the alignment of the door and other parts of your home.
Step 4: Fix a Warped Door
Fixing a warped door can be a bit more complicated. Depending on the severity, it may involve using a plane to shave down high points or using clamps and heat to reshape the door. In extreme cases, it might be more cost-effective to replace the door rather than try to fix a severely warped door.
Step 5: Rehang the Door
Finally, it's time to rehang the door! Make sure it swings freely and closes without scraping or sticking. Once the door is aligned, tighten all the screws on the hinges. Open and close the door several times to ensure it moves smoothly and latches properly. Adjust as necessary for a perfect fit.
While this guide provides you with the basic DIY steps to fix a sagging door, it's important to understand that every door is unique and might require specific handling. Therefore, always be observant and patient, and remember that it's okay to seek help if you're unsure.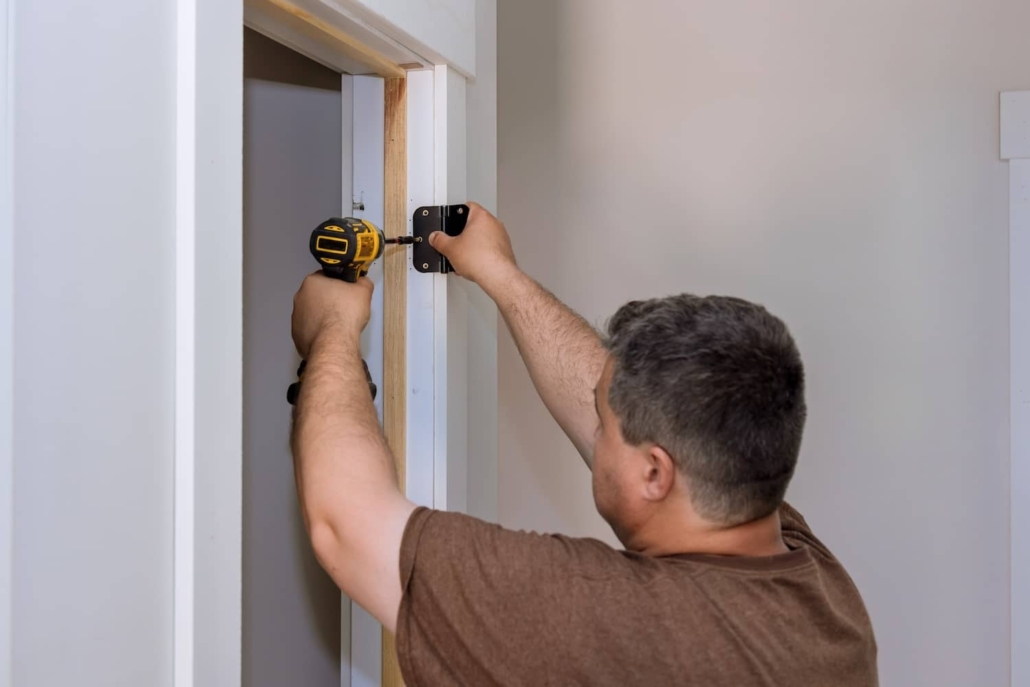 Recommended Door Maintenance
Regular door maintenance is key to preserving their function and aesthetics. Start by checking your door hinges for loose screws and tighten them as needed. Keep your door frames square by measuring from corner to corner periodically.
If you have wooden doors, monitor them for signs of warping due to changes in humidity or temperature. Investing in high-quality hardware and lubricating hinges can also extend the life of your doors. If you're installing a new door, consider professional installation to ensure correct fitting and avoid future sagging.
When to Call a Professional to Fix a Sagging Door
You can often address minor door issues effectively with DIY solutions, but certain situations require professional intervention. If your door has severe warping, or if your attempts at repair haven't stopped the door from sagging, a professional can more accurately diagnose and correct the issue. Similarly, if the task seems daunting or beyond your skill level, it's better to seek professional help rather than risk causing further damage.
Nonetheless, preventative measures and regular maintenance can help extend the life of your doors. However, when in doubt, don't hesitate to contact a professional to ensure your doors are safe, functional, and aesthetically pleasing.
Conclusion
In summary, fixing a sagging door may seem intimidating, but with the right knowledge and tools, it's a task you can often tackle yourself. However, recognizing when to call a professional is equally important to ensure your doors remain in top shape while maintaining the aesthetics and functionality of your home.
All that being said, the experts at Inside and Out Inspection Services are always happy to help. If you're experiencing persistent door issues or other home maintenance concerns, don't hesitate to reach out for an expert inspection and guidance on the best next steps.
https://insideandoutpropertyinspectors.com/wp-content/uploads/2023/11/Fix-a-sagging-door.png
920
1500
BJ Johnson
https://d39oyu4lp7snwz.cloudfront.net/wp-content/uploads/sites/54/2019/08/31171419/io-favicon-300x300.png
BJ Johnson
2023-11-21 17:25:43
2023-11-21 17:25:44
How to Fix a Sagging Door