One of the areas of your home that is important to pay attention to is your doors. If your front door or other exterior doors are made of wood, you will want to keep an eye on it as the door ages. Many homeowners neglect to take preventative steps in a variety of areas within their homes. Neglecting your doors can allow them to warp. A warped door could create openings for pests and insects to get into the home, or even worse, make it easy for burglars to break-in. How to fix a warped door? This involves removing the door, measuring it, cutting the warped areas, or using weights to flatten the door out.
Let's take a look below at some ways we can fix a warped door.
What Do I Need
Every project requires some type of tool or equipment to accomplish. If you do not have the tools or equipment listed below, then you are probably going to reach out to a professional handyman. The following tools and equipment are recommended for straightening a warped door:
How Do I Fix It
Just like all projects, there is a recommended step-by-step process to fix a warped door. Keep in mind that you might experience different types of warps, so you could use a couple of different approaches. Let's take a look:
Take the door off the hinges.
Place it on a set of sawhorses to support the wood door.
Sand the door with a belt sander or sandpaper. Focus on the top or bottom of the door, sides of the door, as well as the edges of the door.
Place heavy objects, like weights on the warped area. Give it 24 hours to see if the warp straightened itself out.
If the slightly bowed area of the door is bad, it could take heavy wet towels and large blankets being applied to the warped locations.
Add more weight each day until the warp is gone.
Dry the warped areas and apply a wood varnish. This will seal the door and protect it from further damage.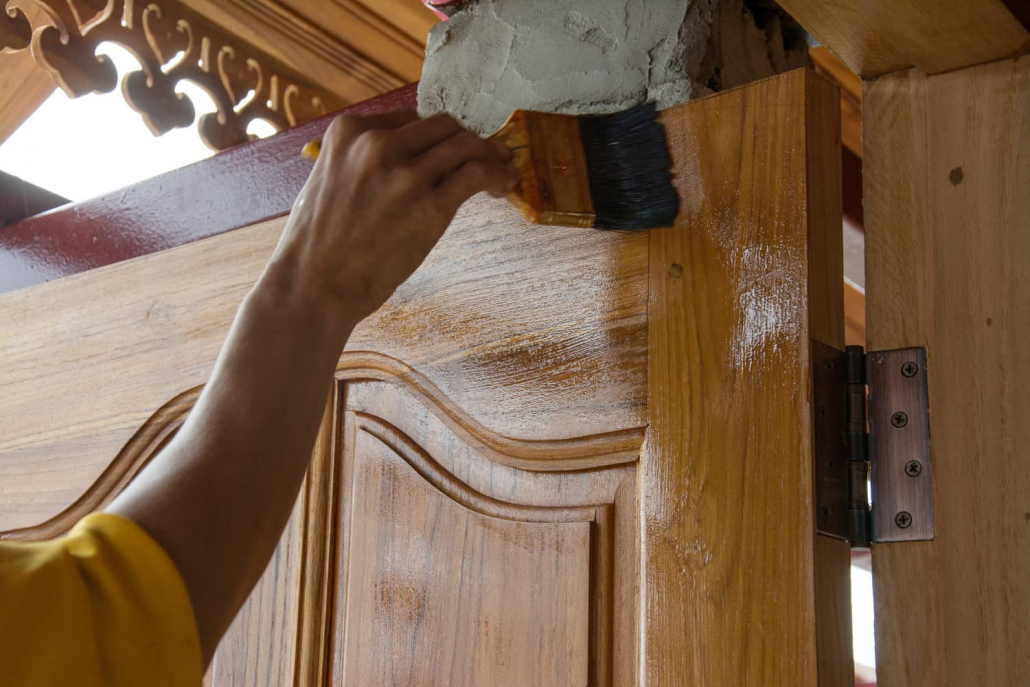 Preventative Maintenance
Preventative maintenance is not something that every homeowner looks forward to. The list can be long and take a long time to complete. Being a homeowner might even feel as if the preventative maintenance list never gets completed. Well, if you want to save time and money, take these steps to protect your wood doors.
Start by polishing the door regularly. Any wood door exposed to the elements should be polished twice a year.
Only adjust the wood doors during regular weather patterns. Do not adjust them during major changes in temperatures or rain conditions.
Consider using a sealant or varnish on the door. This keeps the moisture out and prevents any damage to the door due to the environment.
When possible, put a cover on the doorway during bad weather situations. The cover will add an additional layer of protection against the cold and rain.
Consider buying a door that is made of fiberglass, rather than wood. Fiberglass doors are more weather resistant.
Keep your home free from moisture and humidity. Feel free to dehumidify your rooms to keep the wood from warping.
How Much Does It Cost
The average cost to fix a warped door varies based on the damage and the type of wood that is warped. In many cases, homeowners will elect to just replace the door. The national average for a door replacement is $500 to $1,500. This depends on the size of the door and the style or type of the door. You will also pay a varying fee based on labor costs in your area.
Other Recommended Maintenance
Now that you are caught up on how to fix a warped door, you might also want to understand how to remove a doorknob. Doorknobs can break down and malfunction over time. Purchasing the right replacement doorknob is important to save time and money. Do not expect to simply take a new replacement doorknob out of the box and line it up perfectly where the old doorknob was located. In some cases, makes and models can make it tricky to install. Knowing how to remove the doorknob will allow for a smoother replacement.
Another area of your home to look into is your garage door. Since you are on the topic of doors, this would be a great time to look over the garage door functions. Making sure that it is working properly and all maintenance is performed is key. Also, check to see that the garage door opens and closes properly. Over time the batteries get low and start to malfunction. Might be a great time to replace those batteries.
Speaking of garages, you may decide to insulate the garage roof. Why would you do this? The insulation will allow you to keep the heat trapped in the cooler months and the cooler air trapped in the warmer months, so it is important for your garage. You will appreciate the savings you see on the electric bill once the garage is insulated.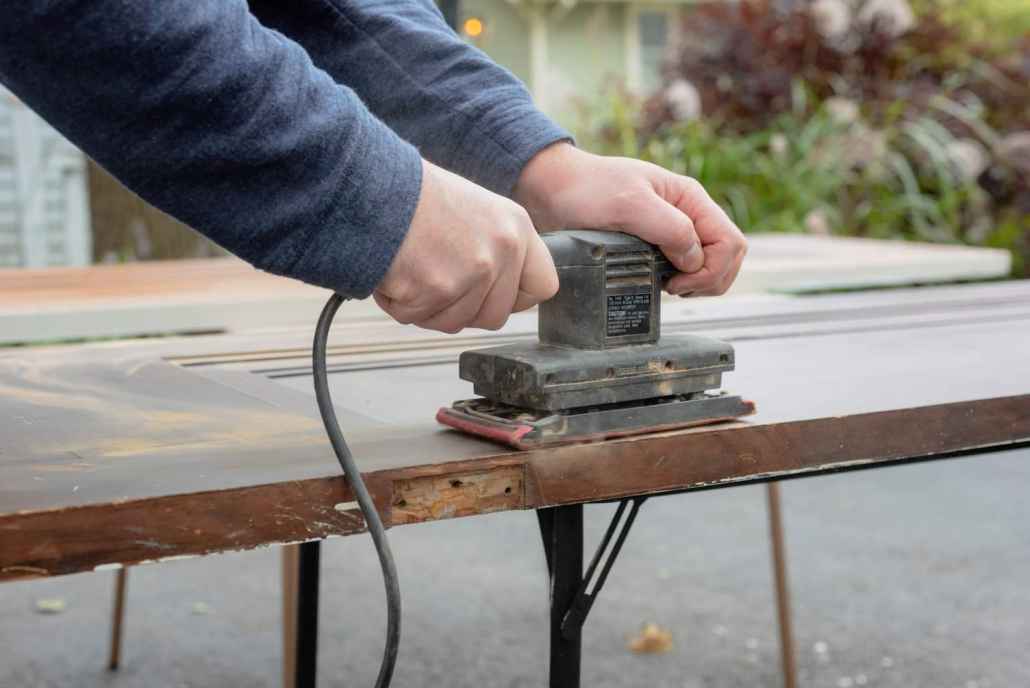 When Do I Call A Professional
Calling on a professional handyman or door repair company is important here. If you cannot fix the door, you might save time and money by hiring a professional. This might also be a good time to get a home inspection done by your local home inspection team. Not only can they determine which doors are needing to be repaired they can also refer a reputable handyman or door repair company.
Conclusion
Discovering that your doors are warped can provide the homeowner with a variety of warnings. If you aren't smart about how or why the door has become warped, then you could experience more costly issues down the road. This project might seem simple, but you should be asking yourself why did this happen? Was it the environment and bad weather outside, was it a poor installation from the builder or contractor, or did your home actually begin to shift from settling? Any of these scenarios could have caused it to warp or bend. Call out your local home inspection team to get the home inspected. You might find reasons for the warp totally related to items like plumbing leaks, rather than poor weather on the exterior. Contact Inside and Out Property Inspectors in Jacksonville, FL, and surrounding areas to get your home inspection done today.
https://insideandoutpropertyinspectors.com/wp-content/uploads/2022/04/wood_front_door_25.jpeg
682
943
BJ Johnson
https://d39oyu4lp7snwz.cloudfront.net/wp-content/uploads/sites/54/2019/08/31171419/io-favicon-300x300.png
BJ Johnson
2022-04-20 12:39:49
2022-04-20 12:39:57
How To Fix A Warped Door