Why Do Rodents Chew Wires
Owning a home requires a lot of work and maintenance. Most homeowners never consider what to do regarding pests. Hiring a pest control company to service your yard and home is easy to do. However, most pest issues do not arise until things have gotten out of control. The amount of damage that rodents and other pests can cause to a home is exponential. In many cases, rodents can destroy a home. Keep in mind that some rodents can destroy more than a home. Have you ever been nervous that if mice or rats get into your home, your electrical wires would be destroyed? Have you ever thought that your car that is parked in the garage could end up with wire damage as well? Why do rodents chew wires? Rodents like to chew wires because they are soft. The rubber coating helps their teeth chisel down and get sharper.
Let's take a look below at the details involved with a rodent's teeth and why they chew so much.
What Rodents Typically Chew Wires
Believe it or not, your standard mouse, rat, or squirrel can all be culprits in the wire chewing scenario. Let's take a look below at why they chew on the wires.
By default – in all cases, it just so happens that rodents hide in places where your electrical wires are run through.
Rodents will begin chewing on the wires because this keeps their teeth from over growing. If the wires aren't present, they will chew on your wood, rubber, plastic, glass, aluminum, rock, and even your cement.
Wires are perfect to help grind down their teeth. The rodent's little hands can hold the wire while they chew. This allows them more control when eating.
Rodents will not only eat your electrical wires in the home, but if they get access to your garage, they will nest in your automobile and eat those wires. Make sure that if you have a rodent problem, you are inspecting your automobiles wiring system and engine compartments. This could become very dangerous and start an automobile fire.
Don't forget that your rodent issue could be self inflicted. Pets like hamsters and gerbils have a knack of escaping and finding places to hide. They too need to sharpen their teeth so chewing on the wires only helps them keep their teeth level and sharp.
How Do I Check My Wires
Checking your wires in your home or automobile can be a tough task. Most homeowners do not stop to think, oh, maybe I should check my wires today. This is a great reason to have a full home inspection done at least once a year on your home. If you cannot have an inspection done, then be diligent about what is happening in your home. Here are some tips for you to understand what might be happening with your wires.
Squeaking or scurrying – hearing these noises is a clear indication that you have rodents in your attic or walls.
Chewing or rustling – hearing a chewing or rustling sound in your walls is a clear indication of rodents in your walls.
Chewed places – if you notice chewed-up wood, paper, or other materials in your attic or crawlspaces, you likely have rodents.
Grease spots – rodents will have greasy feet as they shuffle through old trash and food. These greasy feet will leave dark spots or markings on your walls and flooring.
Sighting – actually spotting a rodent in or outside your home is a clear indication that an infestation has likely occurred.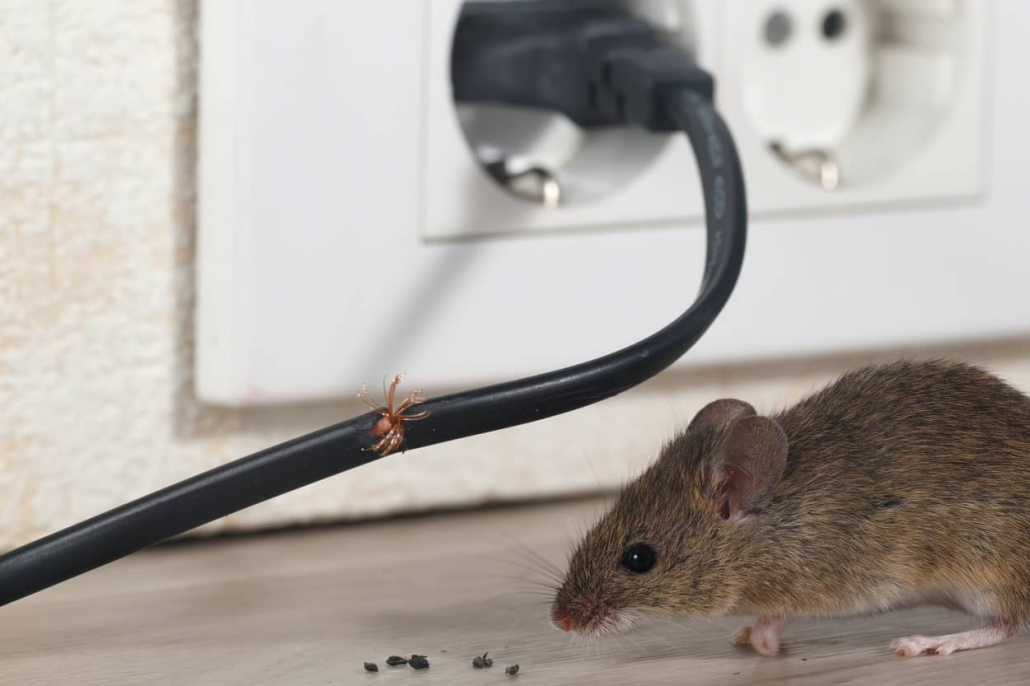 How Can I Prevent This
The biggest way to prevent rodents from accessing your home is very simple. Take away their food, water, and access to shelter. Just like any living organism, the goal is food, water, and shelter. So, if you can keep these items away from the rats, mice, or squirrels, then your home will be fine.
Make sure to inspect your home and seal up any access points or entryways that the rodents might be able to use.
Trimming your trees back away from the home will keep the rodents from gaining access to your roof or ledges. These could be great access points to your attic space or wall space.
Keeping up with pest control and monitoring your attics, crawlspace, and exterior walls will be your best method of prevention.
How Much Does It Cost
The cost to keep rodents away is fairly low considering the repair cost for any damage that they could cause. The national average for rodent pest control ranges from $175 to $550 per extermination. Keep in mind that the cost to replace damaged electrical wires in your home ranges from $800 to $2,200.
Other Recommended Maintenance
Now that you have an understanding of which rodents like to chew wires and why let's look at how we can exclude them. Keep in mind, that there are many ways to exclude rodents from your home or from getting near your home. Before you freak out and reach for a do-it-yourself poison for the rodents, call on your local pest control company. They can recommend all of the safe and harmless ways to exclude rodents from your home.
Another area to think about is bed bugs. Bed bugs can be found during the daylight hours by using the sun, a flashlight, or magnifying glass. This is not a pest you want to find in the home. If you are finding blotches on the skin or eggs or blood on sheets or in the crevices of the bed are more indicators.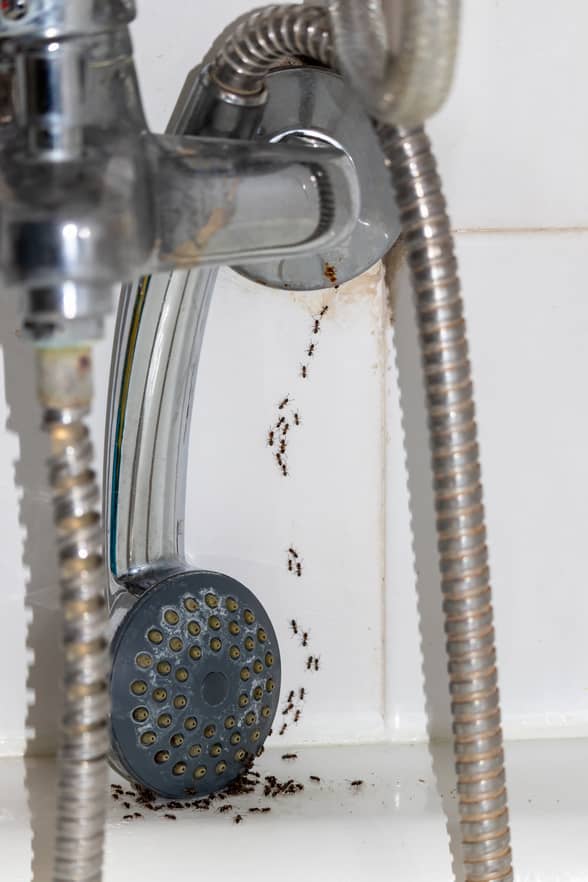 Lastly, if you notice ants in the bathroom, you will want to get rid of them. How do you get rid of ants in the bathroom? Seal up the entry points, and look for cracks in the walls. These will need to be sealed up. Also, look for a trail of the ants and where they are coming from, this will help you find where they are starting. Once you figure all of this out, you can proceed with getting the ants out of the bathroom.
When Do I Call A Professional
Calling on a professional pest control service to assist with keeping rodents away is a great idea. Finding the most reputable company that has experience keeping up with rodent issues in your local area is key. Always remember that the best maintenance is preventative maintenance. If you aren't sure who to call, reach out to your local home inspection team. Not only can they inspect your electrical system for chewed wiring, they can also recommend a reputable pest control service. In some cases, your home inspection team might also offer a pest control service.
Conclusion
Whenever you are dealing with a rodent issue or even chewed wires that are now exposing your home to fire, calling the right pest control and home inspection team is key. As a homeowner, you might find that it is cheaper to buy a few do-it-yourself solutions. However, that is not always the case. Getting rid of the rodents might be the easy part, but understanding where to look for damages and chewed wires might be the difficult part. So, why not call on a local pest control service that can also conduct a home inspection of your electrical wires. Inside and Out Property Inspectors can treat your yard for pests.
https://insideandoutpropertyinspectors.com/wp-content/uploads/2022/05/mouse_chewing_on_wires_25.jpeg
1000
1500
BJ Johnson
https://d39oyu4lp7snwz.cloudfront.net/wp-content/uploads/sites/54/2019/08/31171419/io-favicon-300x300.png
BJ Johnson
2022-05-06 00:37:23
2022-05-06 00:37:29
Why Do Rodents Chew Wires