Owning a home comes with a lot of responsibilities and needs for maintenance. If you aren't keeping up with the recommended maintenance or reading up on how to troubleshoot things when they break down, then you aren't doing a great job as a homeowner. Owning a home is very much a second career for many homeowners. Things in a home can break down at a moment's notice. Your systems in the home should be checked regularly. Things like air in your plumbing and electrical faults can occur. Knowing how to make the repairs is key. What causes air in water pipes? There are a variety of reasons from cracks in the pipes to replacing plumbing materials.
Let's take a look below at what can cause air to get into your water pipes and how you can fix this.

What Does It Sound Like?
Having air trapped in your plumbing pipes can cause a variety of noises or sounds. The most common noise made by air in the water pipes is a hissing or popping sound. While your plumbing is still functioning, the system is letting you know it is having trouble or issues with accomplishing the job. Trapped air can sound like a gurgling noise, or even become a vibrating noise. In some cases, your pipes will rattle or vibrate inside of your walls, while you are using your water. Consequently, any tapping, hammering, or thumping sounds cause immediate concern and need immediate attention.
How Does The Air Get Into My Water Pipes?
Believe it or not, air can get into your water pipes in a variety of ways. Let's take a look below at how air can get into your water pipes.
New Pipes or Changes – Anytime the homeowner is changing pipes or installing new ones, air can get into the water lines. Air bubbles and air locks can enter your plumbing system as the pipes are being replaced.
Neighboring Repairs – When your local municipality is updating or changing the plumbing system in your neighborhood, you will likely get some noisy pipes or sputtering water out of the faucets.
Water Heater – When corrosion due to a failing anode rod inside the water heater occurs, air can get into the water pipes. Additionally, you will notice a foul smell coming from your water as well as sediment and a cloudy component inside the water.
Shutting Off the Main Water – If your local municipality determines that the local water supply needs to be shut off for repair, air can get into your water pipes. While the municipality is conducting the repair work, the pipes are exposed to the outside air. All homes connected will experience some sort of air in-the-lines issue and will need to manage the problem.
Constant Heating – As water is heated, it forms air bubbles. When hot water is evaporated, it cannot exit the pipes. This keeps the air trapped in your plumbing system.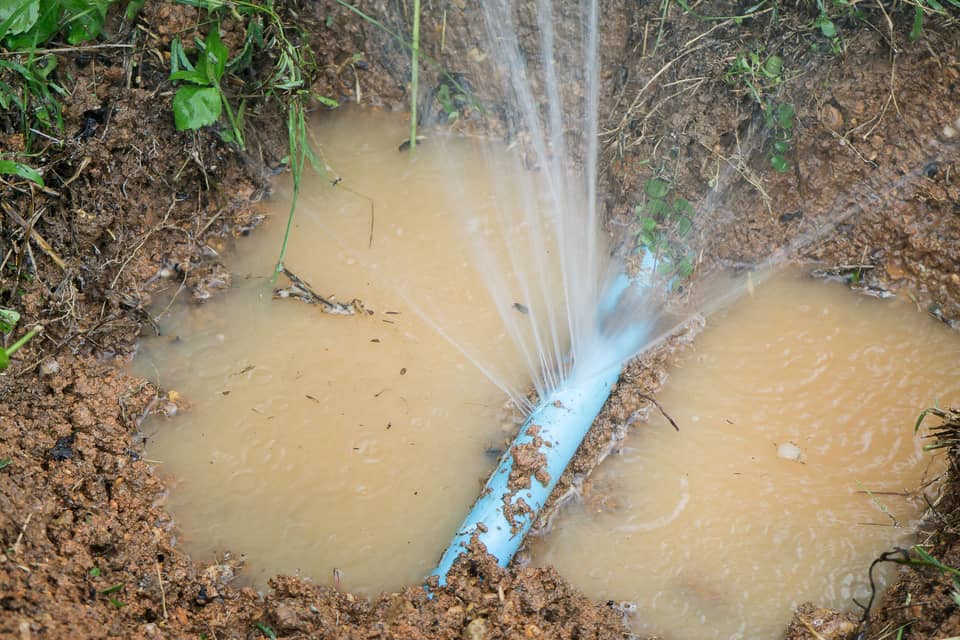 How Do I Get The Air Out?
Once you have noticed that air has entered your water pipes, you will need to take the necessary steps to get the air out. Let's take a look below at how to get the air out of your water piping system.
Turn off the main water supply – Turn off the main water valve located in your basement, outside near the foundation of the home, under your kitchen sink, or near the water heating system. Doing this allows all remaining water to flow back into the plumbing system.
One-half turn your faucets – Working your way from the faucet closest to the main water valve, turn the faucets one-half turn to open them. This keeps high pressure down and allows water to flow freely. Additionally, run all appliances that require water. This includes a dishwasher, washing machine, and showers. Doing this opens every inlet that water accesses to push water through your plumbing. Consequently, it pushes the air through the plumbing system.
Wait for the faucets to stop running then flush all toilets – Allow the water to flow through all open faucets. Once the water flow stops running through the faucets you will flush all of the toilets. This eliminates all water from your plumbing system.
Turn the water back on – Leaving your faucets open or on, go and turn the main water supply valve back to the one position. Allow the water to flow for 10 to 15 minutes. If you notice no noises and a steady stream of water your process has worked. Additionally, use a cup of water and pour it into the washing machine and dishwasher so that they can run through a cycle. Steady flows of water equal pipes with no air. Also, as you shut off the faucets, you will work backward and start with the faucet farthest from the main water supply line.
Other Recommended Maintenance
Now that you are aware of how air has gotten into your water pipes you can being reviewing other possible plumbing issues in older homes. Once you purchase an older home, it is a great idea to read up on all of the possible issues that could arise. This allows you to save money towards any big repair needs down the road.
Next, there are other areas in your home where you might notice air bubbles in your water lines. The toilet is often a place that has an issue with too much air, based on the water pressure and the need to swap out old equipment. Be sure to understand why your toilet bubbles when the shower is running. This could be a result of air in your water lines.
Lastly, if you notice a problem with your bathroom smelling like sewage, you should immediately investigate this. Checking all drains and other possible causes during a sewer scope inspection is key. As you work to get the air out of your water pipes, you might also get rid of any clogs or bacteria build-up that has caused this foul smell.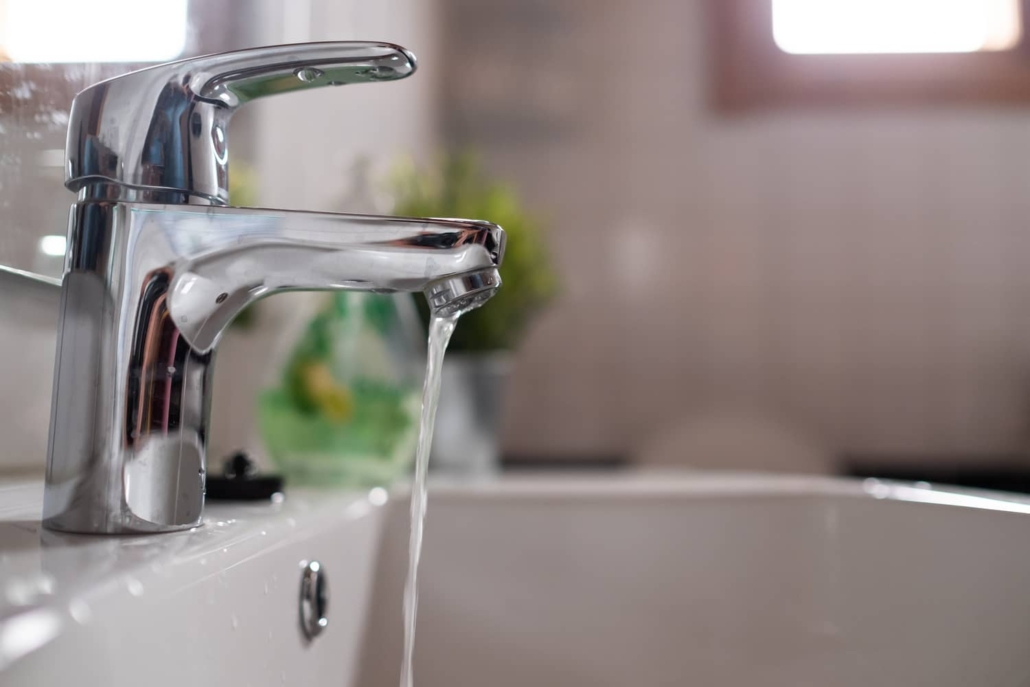 When Do I Call A Professional?
Once you discover a plumbing concern, you will want to contact a professional. Troubleshooting every possible scenario as to why air is in your water pipes is going to be difficult. In many cases, this could mean needing to send a camera into the plumbing to further investigate the issue. Getting a sewer scope while you are getting a home inspection is a great idea. Your local home inspection team can conduct a sewer scope inspection. Also, they can recommend a reputable master plumber.
Conclusion
Discovering why you have air in your water pipes is a necessary thing to save money on your utility bill. If air is in your water lines, chances are that you leak. Also, it is possible that a new plumbing item was just replaced. It is a great idea to call on a master plumber to assist with getting air out of your water lines. Additionally, call on your local home inspection team. They can inspect your entire plumbing system and recommend a reputable master plumber to help with your plumbing needs. Contact Inside and Out Property Inspectors in Jacksonville, FL, and surrounding areas to get your sewer scope inspection done today.
https://insideandoutpropertyinspectors.com/wp-content/uploads/2023/07/water_droplets_25.jpeg
1000
1500
BJ Johnson
https://d39oyu4lp7snwz.cloudfront.net/wp-content/uploads/sites/54/2019/08/31171419/io-favicon-300x300.png
BJ Johnson
2023-07-13 00:55:11
2023-07-13 00:55:11
What Causes Air In Water Pipes?