What Does Hail Damage On A Roof Look Like?
Imagine coming home from a long day at work and the skies start looking very threatening. You rush to pull your car into the garage and get inside where it is safe. As you get settled in your home you start hearing loud bangs. You look outside the window and there are large pieces of ice jumping around on your driveway. Immediately you realize it is a hail storm. Homeowners' worst nightmares are acts of mother nature that cannot be predicted or changed. Once the storm is over you head outside to inspect the damages to your roof and the rest of the home. What does hail damage on a roof look like? Dents, dings, damaged shingles, bruising to your roof, and loose roof materials are all signs.
Let's take a look below at some more specifics regarding hail damage on a roof.
How Does Hail Damage The Roof?
Believe it or not, hail can damage a roof in a variety of ways. Let's take a look below at what those are.
Roof slope – Depending on how the roof is sloped on your home will determine the types of hail damage that it might incur.
Roof age – The older the roof, the less likely it will survive major damage caused by a hail storm.
Roofing materials – Hail can dent, ding, and even cause roofing materials to become loose and out of place.
Wind speed – The speed of the wind during a hail storm can cause substantial damage to the roof materials.
Wind direction – Depending on how your roof is situated and the direction in which the wind is coming from will determine how damaged the roofing materials will become.
Size of the hail – The size of the hail will also determine how bad the damage is. The larger the hail typically means the larger the damage.
Keep in mind that damage to your roof is generally cosmetic. You will want to hire a professional to take a closer look. If the hail is large, you will notice a loss of shingles, loss of granules, bruising to the shingle and even notice other structural changes.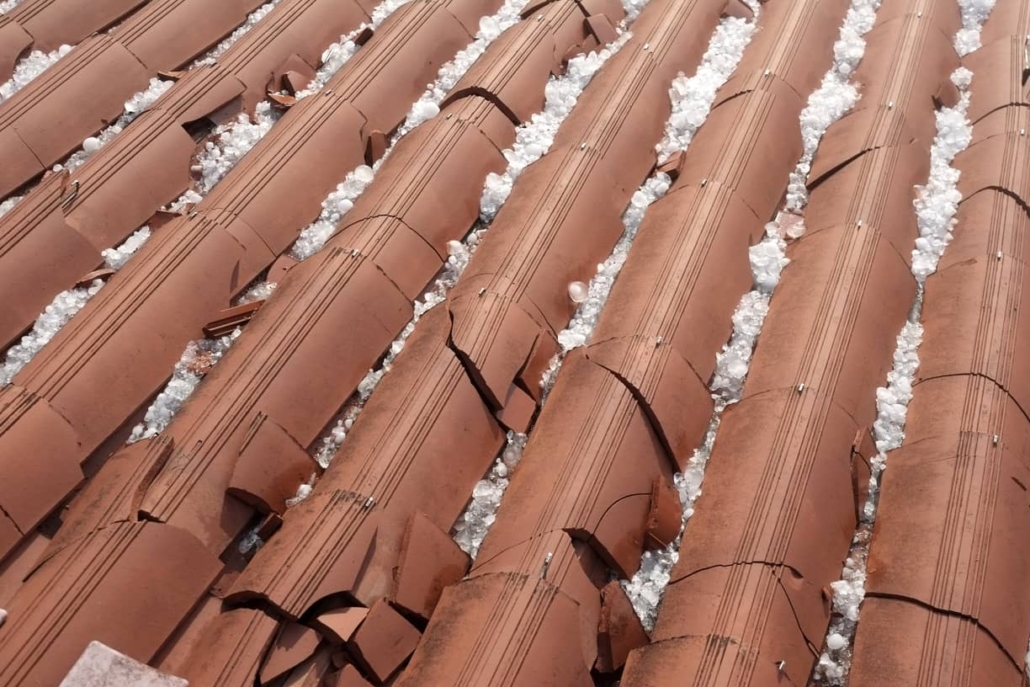 What Does Hail Damage Look Like?
There will be some noticeable damages to your roof as a result of a hail storm. Let's take a look below at what some of those damages look like.
Fiberglass mat exposure – The force of hail falling from the sky can loosen any shingle and make it slide away which will expose the fiberglass mat underneath.
Granule loss – As the hail dings the shingle, the granule material on the shingle will begin to disconnect and fall off the shingle.
Damage to the fiberglass mat – If the fiberglass mat is exposed you will notice damage to this protective layer. Damage to the mat could also cause damage to the roof sheathing underneath it.
Cracks in the shingle – Hail that causes cracks in the shingle is not good. Cracks and crevices in a roof allow water to get into the roof structure and attic space. This will promote mold growth and other damage to the roof.
Damage to the seal – If the hail damages the seal strip or weakens it at all, the shingles will be capable of blowing off the roof during the wind storm. Check for any loose shingles when the storm is over.
Other Recommended Maintenance
Now that you understand what hail damage to a roof looks like, you can proceed with a roof inspection checklist. This allows you to look for any exposed nails, missing tiles, or flashing to name a few. If there are damaged shingles, they should be repaired or replaced immediately.
Next, check the ceilings to make sure there are no wet spots. Any wet spots are a sign that you have a roof leak. Check to see if there is damage to your shingles, flashing, or roof vent seals. You will need to call a professional to check for you.
Lastly, if you really want to know what kind of damage could occur to your roof after a hail storm, get to know what shingles are made of.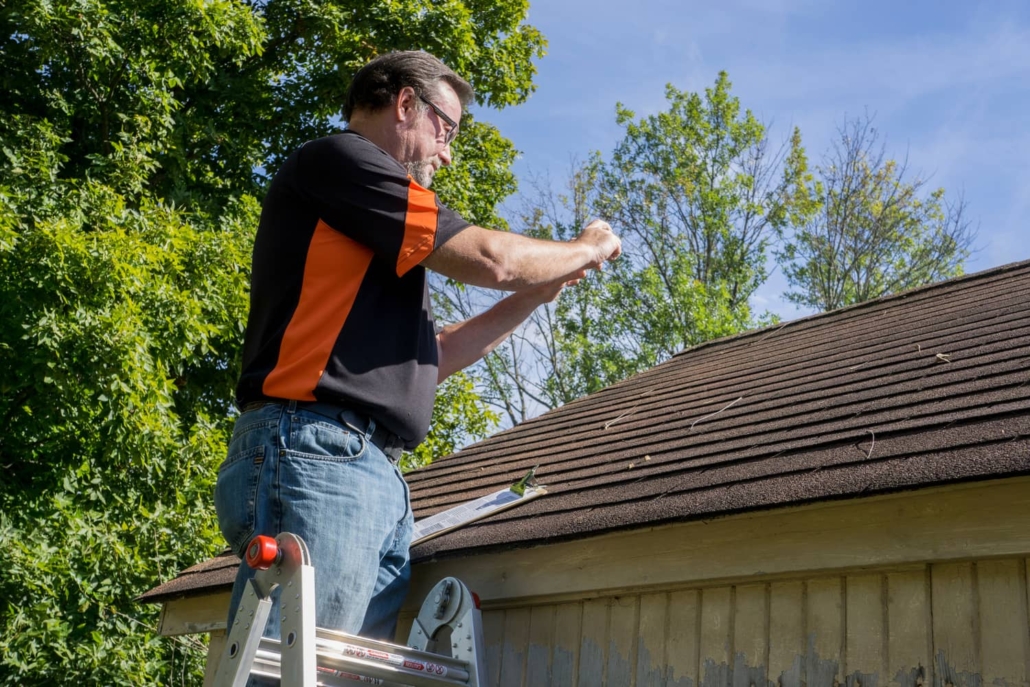 l
When Do I Call A Professional?
To get your roof inspected after a hail storm you should reach out to your local home inspection team. Also, consider hiring a local professionally licensed roofing contractor that understands the specifics regarding your roofing material. Together these professionals can come up with a solution and some reports for your insurance company. Keep in mind that your insurance company will want multiple estimates for roof repairs.
Conclusion
Whenever you are dealing with roofing materials and mother nature you will want to get a professional to take a look. Professionals have the experience and knowledge to know what they are looking for after a hail storm. Additionally, you should call on your local home inspection team for a roofing inspection. Contact Inside and Out Property Inspectors in Jacksonville, FL, and surrounding areas to get your home inspection done today.
https://insideandoutpropertyinspectors.com/wp-content/uploads/2023/04/hail_damage_markings_25.jpeg
1000
1500
BJ Johnson
https://d39oyu4lp7snwz.cloudfront.net/wp-content/uploads/sites/54/2019/08/31171419/io-favicon-300x300.png
BJ Johnson
2023-04-25 15:37:15
2023-04-25 15:37:15
What Does Hail Damage On A Roof Look Like?