Where Do Termites Come From
Termites can be nasty little insects. They are so tiny and can do a lot of damage to your home. Keeping them at bay is a huge undertaking that should not be overlooked by any homeowner. Your first order of business is making sure a termite inspection is conducted on your investment. Whether you are buying a home or just keeping up with yearly maintenance, a termite inspection is vital. Keep in mind that depending on where you live, can explain the type of termite that you might come in contact with and how to manage them. Just like all other insects, it is not possible to completely eradicate these insects, however, keeping them from feasting on your home should be a priority. Where do termites come from? Most come from underground and create mud tunnels. The tunnels take them straight to your home.
Let's take a look below at some more pertinent information regarding termites.
What Are Termites
Termites are insects that no one wants in or around their home. Their main job is to destroy wood as they feast. Is it their fault that the main food source for termites is any cellulose-based product? Let's look at the variety of types of termites that are typically identified in the United States.
Drywood Termites – love a good drywood habitat. Woodshop, new home developments, and even forests are full of their favorite food. Dry firewood and furniture are the two most desired kinds of wood for a drywood termite. In the forest, they will seek out larger and older trees.
Dampwood Termites – as the name states, these termites love a good wet tree or rotted trees that have fallen to the ground due to dampness. Homes with leaking pipes and high moisture are highly desired by these termite types.
Subterranean Termites – these termites create access to homes and buildings via underground mud tunnels. Also, they desire all moisture-rich environments. and are very much like dampwood termites in terms of food choices and environmental choices.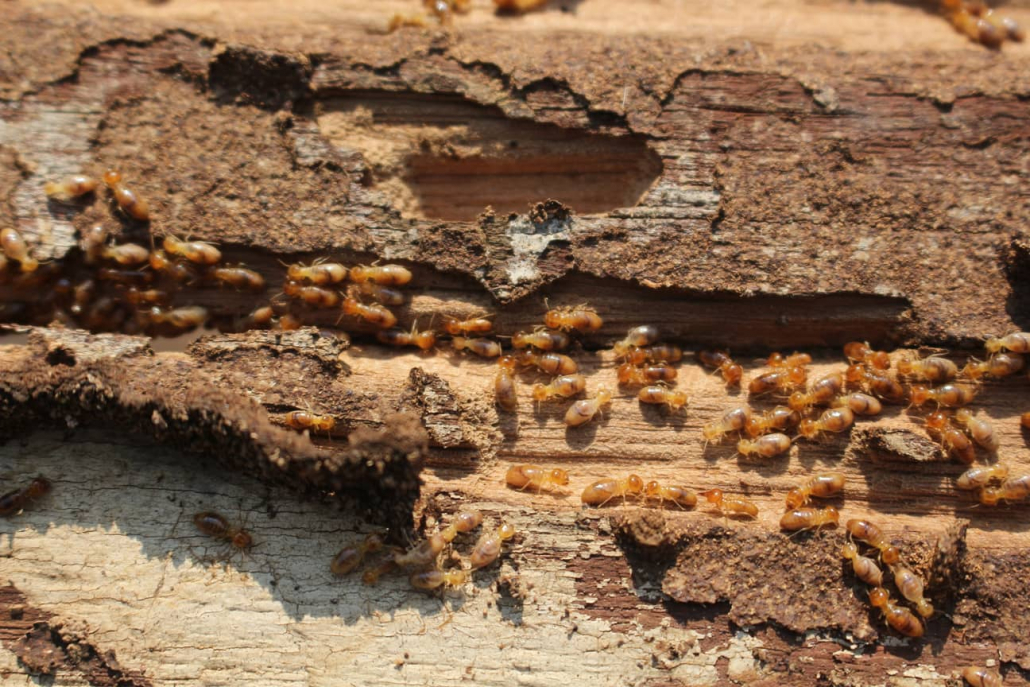 What Brings Them In
Just like all organisms, food, water, and shelter are the key factors attracting termites to a home. Anytime a termite can find easy access through your home to their desired food it's a win for them so your best method for keeping them away is to keep the food, shelter, and water access to a minimum. Termite infestations occur when the termite colony is allowed to thrive in areas of high wood, cellulose material, and water access.
Food – termites' favorite food is wood and cellulose materials. Any paper, firewood, lumber, and house framing are highly desirable food sources for termites.
Shelter – anyplace that is warm, dark, and wet are the perfect places for a termite to take up residency. You typically see this in your garage, attic, crawlspace, or piles of firewood outside the home.
Water – gutters or downspouts that fail to drain properly can attract termites to your property. This is because the moisture buildup in the soil attracts the termites. High water content and even water pooling in your yard make the conditions very attractive to termites.
How Do I Treat Them
Treating termites can be done in two ways. A termite pest control is typically done using a bait system. The bait system is installed all around the perimeter of the home and keeps the termites at bay. The two ways to treat are as follows:
Chemical treatments – insecticides that are meant to deter termites are sprayed on your wood beams in the attic and crawl spaces. It is also sprayed around the outside foundation of the home. There are a variety of chemicals that are used for this process. You can pick up the most recommended insecticide at your local hardware store.
Baiting treatments – bait systems are placed all around the foundation of the home. They are typically plastic spike units with hollow compartments to store cellulose. The spiked shaft that is driven into the ground has openings to attract the termites. The cellulose material attracts the termites to the bait system allowing the termites to feed. Since you are providing a food source, the termites will not venture any further. A chemical inhibitor is also placed in the bait system. This inhibitor is taken back to the colony and the queen. The chemical prevents any further colony growth and the colony eventually dies.
Can I Prevent Them
Preventing termites can be a very simple task. When homeowners skip out on the termite bonding option of a home, this task can become way more difficult to complete later on. Let's explore the best ways that we can prevent termites from entering our home:
Keep your home clean – all insects and pests are attracted to a dirty home. Typically, a dirty home provides great shelter and a lot of food. Stay tidy!
Eliminate cardboard – go through your garage and other storage and transfer all items from cardboard boxes to plastic bins. The upfront cost might be horrible, but allowing cardboard to attract termites and other insects like silverfish is a bad idea.
Stay on top of repairs – do not ignore any repairs that may allow excess water damage, moisture, or rodents to enter the home. All of these items attract more and more insects and pests. You will find that keeping your roof in great working condition and sealing up all excess cracks and crevices will allow for a great living experience.
Manage your landscape – keep your hedges and trees trimmed, tree stumps removed, and your yard fed with insecticides, pesticides, and fertilizer for a healthy landscape. Keeping it healthy and free from debris can limit the number of insects in and around your home.
Keep the home moisture limited – allowing excess moisture into your home is no good as moisture can allow mold and mildew to grow and will definitely attract termites.
Take a look around – because you aren't getting the home inspected once a month, you become the home inspector. Take a look around when you are in your attic, crawlspace, or even basement. Make sure that everything is in good working condition and no termites live there. Also, keep an eye out for possible leaks in your plumbing.
Get an annual inspection – a lot can change in a year. Getting an annual home inspection is a great investment and can save you from deeper trouble down the road.
How Much Does It Cost
The initial termite inspection for your home could cost you around $150. The good thing is, that once you sign on with the termite company that initial cost is usually deducted from your first contract price. The national average contract range for a termite pest control service is between $560 and $900 depending on the size of your home. In most cases, companies charge $3 to $16 per linear foot.
Other Recommended Maintenance
If you are researching the notion of where do termites come from? Then it is highly possible that you either have a termite problem, or you are playing defense against them. Either way, this is a great time to learn about termite inspections. Your local home inspection team could also provide you with a termite inspection. This not only protects the investment of your home but also provides you with peace of mind, once the results are found.
Now that you have an understanding of termite inspections and where termites come from. Take a look at how or if termites travel from house to house. If you can understand the way termites travel, then you can take action to keep them away from your home. Ideally, limiting the colonies from moving from yard to yard is the most important.
Lastly, check your yard for moles. Moles can be attracted to your yard as they search for insect food like termites so the more you neglect the treatment of your yard, the more moles can be present. Allowing insects to run your yard are creating a buffet of food choices for moles. Lastly, read up on how moles are attracted to your yard and what you can do to keep them away.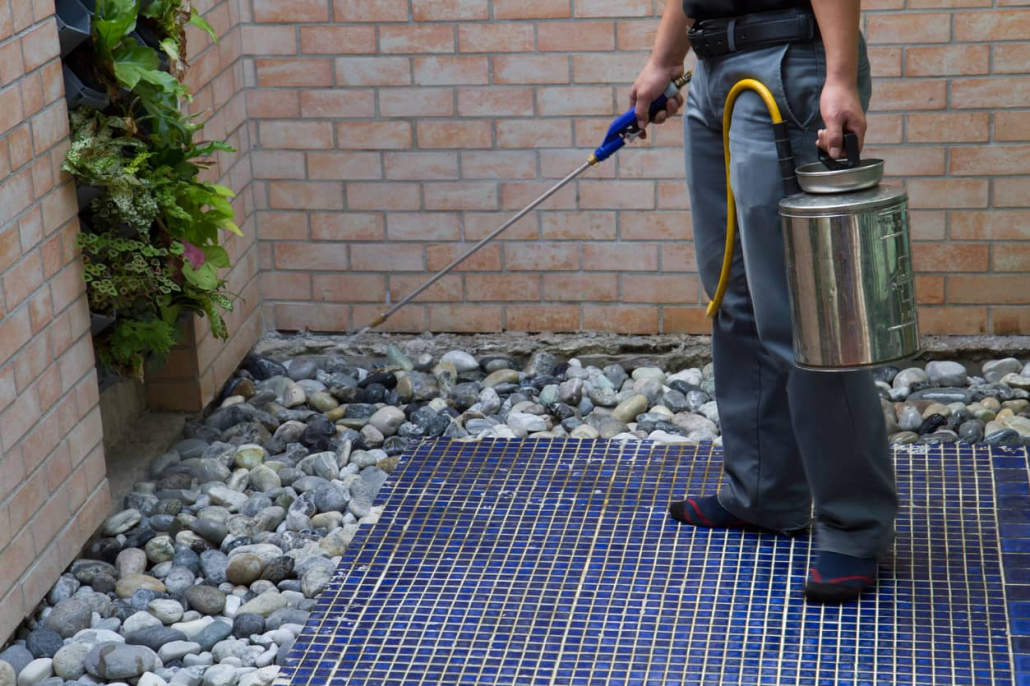 When Do I Call A Professional
Calling on a professional to teach you about where termites come from and where they might be in your yard or home is hugely important. Additionally, you don't want to forget about termites and suddenly have an infestation that has to be dealt with. In fact, if you notice mud tubes, wood damage, or live termites in and around your home, call on a professional termite specialist. It is best to keep the termites at bay by hiring your local home inspection team to conduct a termite inspection. Once the inspection is completed, they can inform you of the next step. If you happen to be purchasing a home, you should definitely get a termite inspection as part of the pre-purchase process.
Conclusion
Understanding where termites come from is your best first line of defense. You cannot possibly stop or limit something if you do not know where it originates from. Unfortunately, termites can cause a lot of damage and become a huge headache for homeowners so luckily, there are ways to take preventative measures to protect your investment. Call on your local home inspection team so they can provide you with a termite inspection and follow up with recommended termite prevention and control. Inside and Out Property Inspectors offer termite prevention and termite control and can check out your home in the Jacksonville and St. Augustine, FL areas.
https://insideandoutpropertyinspectors.com/wp-content/uploads/2022/03/what_is_a_termite_25.jpeg
807
1211
BJ Johnson
https://d39oyu4lp7snwz.cloudfront.net/wp-content/uploads/sites/54/2019/08/31171419/io-favicon-300x300.png
BJ Johnson
2022-03-28 21:16:59
2022-03-28 21:17:04
Where Do Termites Come From